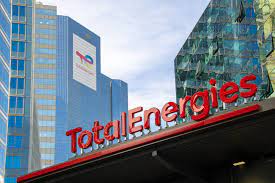 The French oil company TotalEnergies coerces and intimidates communities affected by the $5 billion East African Crude Oil Pipeline project in Tanzania and Uganda, a human rights organization said this week.
Residents along the 1,443-kilometer (870-mile) pipeline route are forced to accept inadequate compensation for their land, according to Global Witness, a human rights and environmental organization.
Global Witness accused TotalEnergies of collaborating with Tanzanian and Ugandan authorities to suppress efforts by communities seeking accurate compensation for land taken for the oil pipeline.
The pipeline route stretches from Tanzania's port city of Tanga to Lake Albert in Uganda. 
TotalEnergies has denied the allegations.
Neither country has commented on the report, but previous criticism, including that from Human Rights Watch and court cases against the displacement and abuses, has not stopped or affected the project.
The Global Witness report
Hanna Hindstrom, a senior investigator in the Global Witness land and environmental defender campaign, told VOA that TotalEnergies is directly involved in human rights violations.
"We found evidence suggesting that TotalEnergies, through its subsidiary, its contractors and partners, has been party to intimidation and bullying of community members affected by the project,'' Hindstrom said. ''Many people we spoke to say they were pressured into accepting compensation for their land and their property that they felt was too low as a result of a climate of fear in both countries.'' 
She said the company benefits from the authoritarian political environment in Tanzania and Uganda in which environmental defenders find it ''all but impossible to speak up against fossil fuel development."
Global Witness said it spoke to activists, experts, journalists and more than 200 people affected by the multibillion-dollar project.
Farmer Jealousy Mugisha, 51, is one of many people who said they are losing their land to pave the way for the pipeline.
The father of seven told VOA he lost his land twice. First, in 2017, when more than a dozen hectares were taken for a processing plant used as an oil collection point. Then, in 2019, he lost 2½ hectares in the pipeline route.
He refused any compensation offered to him, saying it was not enough.
"Our target is not that we want to sabotage a government program or oil project program,'' Mugisha said, ''but ... we need them to respect our rights. ... [People's] land was taken, and now they are suffering.'' 
He said, ''We need to get fair compensation, adequate compensation and promotive compensation. That is the only thing we are claiming."
Land use and compensation
According to the East African Crude Oil Pipeline project, in the first phase of land acquisition, landowners could continue to use their land. The landowners said they were allowed to plant seasonal agricultural produce such as corn and sweet potatoes.
Further into the project, compensation to the evicted owners was calculated with a ''disturbance allowance'' and an increase to reflect the time elapsed since original surveys of the land, according to project documents.
Some landowners filed cases challenging the evictions and low compensation in a local court and a French court.
TotalEnergies has denied allegations they have intimidated anyone affected by the project. The oil firm says it has instituted numerous support mechanisms to ensure that those affected sign agreements only of their own free will.
The company also said it treats the people's concerns with the utmost seriousness.
Harassment and intimidation reported
Maxwell Atuhura, head of Tasha Research Institute in Uganda and an environmental activist, said he came under attack for challenging the pipeline project. ALLAfrica/VOA