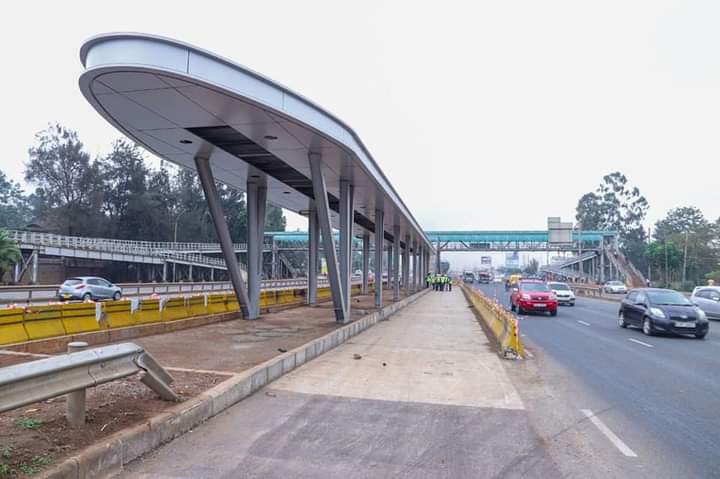 One of the completed Bus Rapid Transit station along Thika Super Highway. The project is aimed at providing reliable and efficient transport. Photo Courtesy
The majority of commuters using public service transport services within Nairobi and satellite towns have had sad stories of their experiences.
They are verbally and physically abused, robbed of money, personal items and even hijacked.
Violence is meted on women, with some sexually harassed and raped. 
The unreliability of public service vehicles has seen many people rely on private vehicles.
Data from the economic survey 2021 showed that the number of driving licenses issued doubled from 140,279 in 2019 to 303,278 last year.
The sharp increase is partly attributed to sensitisation and mass enrolment of smart driving licenses in various counties carried out by the National Transport and Safety Authority.
The number of newly registered motor vehicles however decreased by 14.2 per cent from 109,751 units in 2019 to 94,128 units last year.
The highest decline was recorded for minibuses and matatus at 43.9 per cent from 1,932 units in 2019 to 1,084 units last year.
Panel vans and pickups reduced by 40.5 per cent to 6,065 units, buses and coaches decreased by 32.8 per cent to 900 units last year.
Other significant reductions in new registrations were recorded for saloon cars and station wagons that declined by 22.2 per cent and 20.1 per cent to 7,754 units and 57,962 units last year.
Traffic jams within the city are estimated to cost the country Sh2 billion annually.
It is estimated that Nairobi residents spend 55 minutes in traffic.
Nairobi Metropolitan Area Transport Authority last week Thursday said the anticipated Bus Rapid Transit is expected to greatly transform the city.
"It will provide an efficient system for the ever-growing population," Namata chief executive Francis Gitau said.
The government has allocated Sh700 million for the construction of the project.
Gitau said they are hopeful more money will be coming from other donors.
Some of the features of the new BRT include the right of way lane, coloured pavement, dedicated BRT lane and flyovers.
It also includes the level station, pre-paid fare collection, information, footbridges, sidewalks, pedestrian crossing, facilities for persons living with disabilities, parking lot among others.
Namata was established by President Uhuru Kenyatta on February 9, 2017.
The authority covers Nairobi, Kiambu, Kajiado, Machakos and Murang'a to establish an integrated, efficient, effective and sustainable public transport system.
To decongest the city, Namata has gazetted five BRT lines which are in different phases of development.
Gitau revealed that the feasibility study for Line 1, which is called Ndovu, is under review while Line 2, called Simba, is under construction.
Line two runs along the Thika Super Highway.
"Detailed design for Line 3 has been submitted while finance is being sought for Line 4," Gitau said.
He said funding for Line 5 has been obtained from Korea Exim Bank.
On February 26, 2019, Transport CS James Macharia gazetted transport corridors in the city.
BRT Line 1 runs from Limuru-Kangemi-CBD-Imara Daima-Athi River and Kitengela.
Line 2 runs from Rongai-Bomas-Langata Road-CBD-Ruiru-Thika and Kenol.
Line 3, called Chui, runs from Tala-Njiru-Dandora (Juja Road)-CBD-Show Ground (Ngong Road) and Ngong.
Line 4, called Kifaru, is comprised of East and West.
The East one runs from Mama Lucy Hospital-Donholm (Jogoo Road)-CBD.
The West one runs from CBD- T Mall-Bomas-Karen and Kikuyu.
BRT Line 5, which is also called Nyati, traverses Ridgeways (Kiambu Road)-Balozi (Allsops) and Imara Daima.
Macharia also gazetted commuter rail networks which include Nairobi-Limuru town, Nairobi-Ngong, Nairobi-Kenol, Muranga, Nairobi-Kiambu, Nairobi-Ruai, Nairobi-JKIA and Nairobi-Konza.
BRT and commuter rail will be integrated.
Gitau said the project will be a game-changer in the reduction of both vehicles and human traffic jams in the city.
Passengers will save time, money and enjoy much-needed comfort on their way to and from the city centre.
The CEO said the commuter rail is part of the master plan of an integrated commuter system within the city and its environs.
It also comprises the Bus Rapid Transit, monorail and underground rail.
Some of the infrastructure and amenities are still under installation. Recently, Kenya Railways imported high capacity Diesel Mobile Units.
Operations have started in Embakasi, Pipeline and Donholm railway. The three railway stations are among the 10 stations the KR has upgraded and constructed.
The others are at Umoja, Kibera, Thika, Mbagathi Way, Kenyatta and Strathmore universities, Kitengela and Thogoto.
Park and ride services will be available at the designated stops. The motorists will park at the stations and board the City Rail System buses to and from the city.
"A BRT station will be done at Nairobi central station which will be a transfer station," Gitau said.
"There will be an intermodal facility that will help people using the bus service access rail services and those using the rail service to access the bus services." 
He said the first route from Kasarani to the city is taking shape with the corridor demarcation being between 60 and 70 per cent complete.
Gitau said the buses will be electric ones to attract opportunities for green bonds.
He said the move will help curb carbon emissions. - GILBERT KOECH, The Star