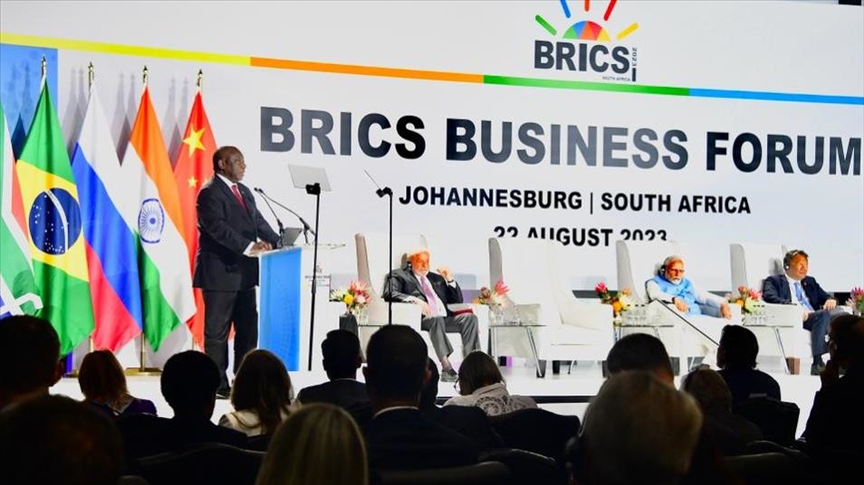 Argentina, Egypt, Iran, Ethiopia, Saudi Arabia, and United Arab Emirates to join bloc as full members in January 2024, says South African President Cyril Ramaphosa
South African President Cyril Ramaphosa (L) makes a speech during the 15th BRICS summit in Johannesburg, South Africa on August 22, 2023. ( Photo Credit: BRICS / Handout )
JOHANNESBURG
The BRICS announced on Thursday that six countries, including Saudi Arabia and Iran, will join the bloc as full members in January next year.
The emerging economies bloc has agreed to expand by inviting six new countries, including Argentina, Egypt, Iran, Ethiopia, Saudi Arabia, and the United Arab Emirates (UAE), South African President Cyril Ramaphosa announced on Thursday at the end of the three-day BRICS summit in Johannesburg.
These six countries will become full members of the bloc by January 2024, he added.
Ramaphosa said BRICS leaders have tasked their finance ministers and Reserve Bank governors to consider the issue of making payments in their local currencies and a report back will be provided at the next summit.
More than 20 countries have expressed interest in joining the bloc of emerging economies that includes Brazil, Russia, India, China, and South Africa.
BRICS leaders gathered in Johannesburg for the 15th summit from August 22 to 24.
Indian Prime Minister Narendra Modi said his country has always been fully supportive of a BRICS expansion. He added that new members will strengthen the bloc and give it new energy.
He said the BRICS expansion is a message to all global institutions to adapt to global times.
BRICS expansion, Chinese President Xi Jinping said for his part, is a new starting point for the bloc's cooperation in furthering the cause of global peace and development. He believes the bloc's future is bright. By Hassan Isilow , Anadolu Agency