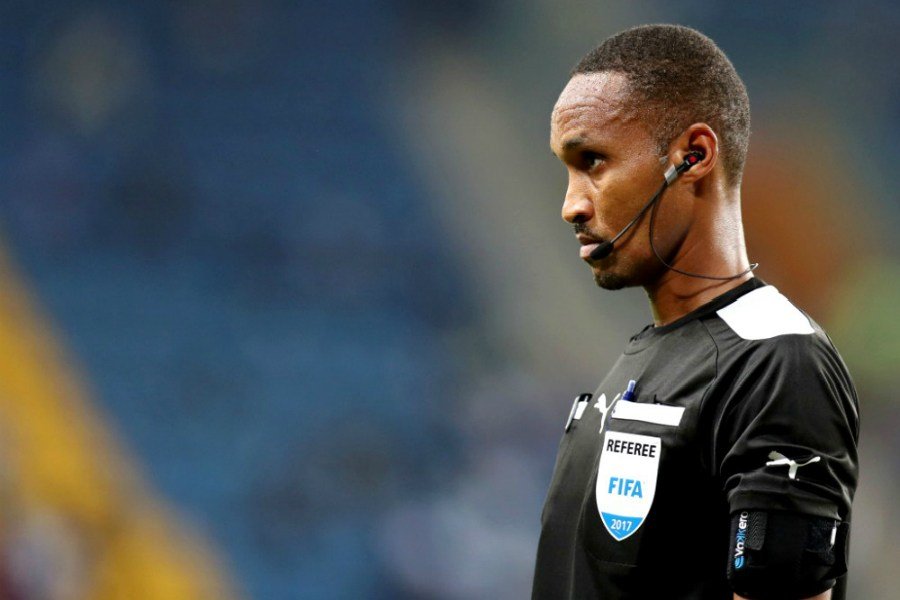 Pacifique Ndabihawenimana. Photo KINGFUT
The Confederation of African Football (CAF) have chosen Burundian referee, Pacifique Ndabihawenimana, to officiate the game between Egypt and Guinea-Bissau.
A disappointing performance from Egypt in the opening game of the 2021 Africa Cup of Nations (AFCON) saw them suffer a 1-0 defeat to Nigeria.
The loss puts Egypt in fourth, and last place, of Group D, with zero points, behind Nigeria, Guinea-Bissau, and Sudan.
The Pharaohs will now look to jump back when they face Guinea-Bissau in match-day 2, in what will be a must win clash in order for them to maintain their chances of qualifying to the round of 16.
On the other hand, Guinea-Bissau will hope to continue collecting points, after their 0-0 draw against Sudan, as they attempt to reach the knockout stages of AFCON for the first time in their history.
The game will be held on Saturday, 15 January at 9 PM Cairo local time at the Roumde Adjia Stadium in Garoua.
Experienced referee Pacifique Ndabihawenimana will be the man in charge of the game and will be assisted by Soulaimane Almadine from Comoros and Madagascar's Lionel Andrianantenaina.
Mauritius' Ahmad Imtehaz Heeralall will be the fourth official, while the VAR room will be led by Algerian referees Mustapha Ghorbal and Abdelhak Etchiali. - Ali Ismail, KINGFUT