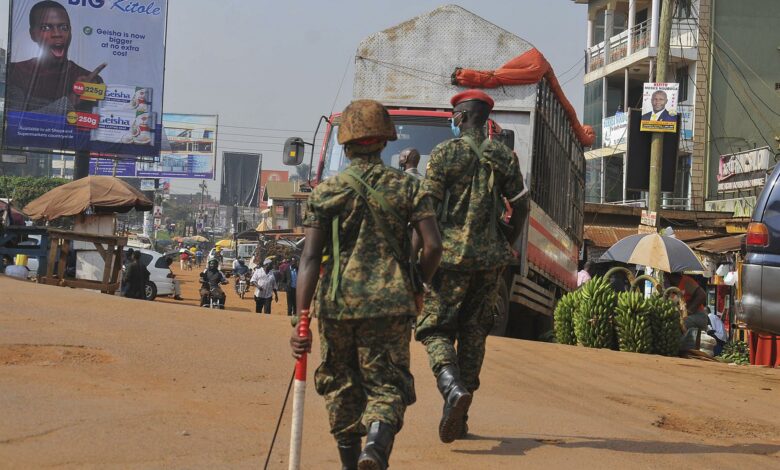 Nairobi, Mar 22 (EFE).- Hundreds of Ugandan government critics, opposition supporters and peaceful protesters suffered torture and unlawful detention between 2018 and 2021 at the hands of security forces, who have not been held accountable, Human Rights Watch (HRW) denounced Tuesday in a new report.
"The Ugandan government has condoned the brazen arbitrary arrests, illegal detention, and abuse of detainees by its officials," said HRW Uganda researcher Oryem Nyeko.
Although the authorities have sometimes acknowledged these abuses, the human rights NGO noted, they have made little effort to end them or offer justice to victims and their families, even when the victims face physical, mental and/or economic problems in the wake of their ordeals.
"Urgent steps are needed to help victims, to hold abusive security agents to account, and to end this specter of impunity and injustice," added Nyeko.
The 98-page report is based on interviews with 51 people, including more than 30 former detainees, witnesses of abductions and arrests, government officials, members of parliament, opposition party members, diplomats, human rights activists, and journalists in Kampala between April 2019 and November 2021.
Former detainees described how, after being forced into unmarked vehicles at gunpoint by security officers, they were held in unauthorized locations such as safehouses, an underground room in parliament, vehicles, military barracks and an island in Lake Victoria.
There, where they were unable to speak to relatives or lawyers, the former detainees claimed to have been beaten, tortured, given electric shocks, and injections of unidentified substances. Some women and men said they suffered rape and sexual torture during their detention.
In almost all cases, those interviewed alleged that security officers stole or extorted money from them or their relatives in order to be released.
In the two months before the January 2021 general election, and for months afterward, incidents of abuse spiked, HRW said, adding that "while the authorities have released some detainees in the course of the past year, the whereabouts of many have not been revealed."
Security agents accused some detainees of plotting to assassinate or spy on top officials in the government of President Yoweri Museveni, as well as of colluding with the leader's rivals to oust him.
Ugandan law criminalizes arbitrary arrest, unlawful detention and torture, the latter in two acts, under which no one has yet been convicted, the HRW report noted.
The government should close all unlawful detention centers and investigate all reports of abuses, and ensure that all those found responsible are held to account, HRW said
"The Ugandan authorities, as a matter of urgency, need to reform the police and other security agencies to dismantle the structures that have enabled these horrific abuses to occur and go unpunished," Nyeko said.
Last Friday, the United States asked the Ugandan government for detailed information on the deaths of 54 people during pro-opposition protests in Kampala in 2020, in addition to expressing concern about reports of missing or tortured citizens.
The European Union delegation in Uganda also expressed its concern in February over reports of torture and other human rights abuses in the country.
Museveni has governed Uganda since 1986 and was re-elected in January last year after a campaign period marked by the disappearance of hundreds of opposition supporters and the dispersal of protests with live ammunition Source: HRW