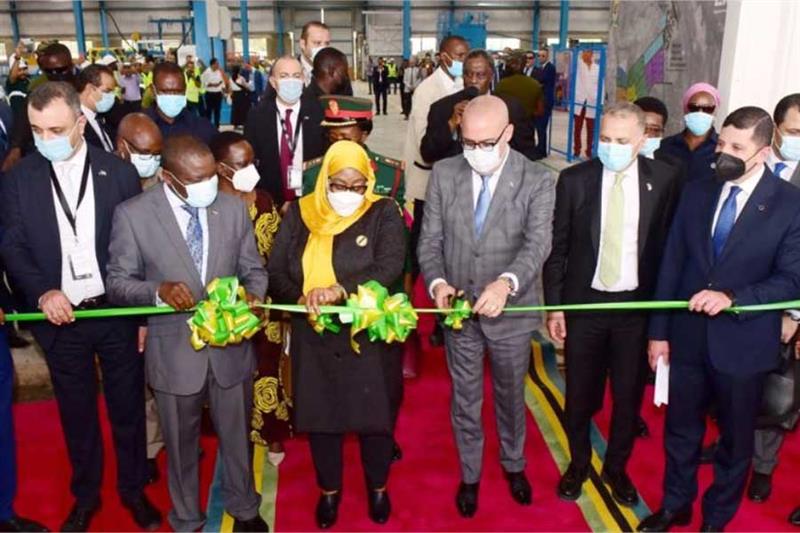 Tanzanian President Samia Hassan and Egypt s Housing Minister Assem El-Gazzar inaugurates Elsewedy Industrial Complex in Tanzania. Press photo
Tanzanian President Samia Hassan inaugurated the first phase of Egypt's Elsewedy Industrial Complex in Tanzania, which includes investments totalling $35 million, Elsewedy Electric said in a statement on Monday.
The president, accompanied with Egyptian and Tanzanian key officials, also laid the foundation stone of the Egyptian Industrial City (EIC) in the Kigamboni district of Dar Es Salaam.
Built on 120,100 square metres, the Elsewedy Industrial Complex comprises several manufacturing facilities specialising in cables, wires, transformers, PVCs, and metres, along with logistics centre built on a 4,800 square-metre-area, the company said.
The complex will also produce the solutions and equipment necessary for the 2025 Industrialisation Strategy of Tanzania and will create more than 500 jobs for talented youths and technical engineers in the first phase alone.
The complex includes a technical training academy to provide innovative technical education and vocational training programmes with international standards to train and provide skills to aspiring employees and feed the growing labour market in the developing nation.
Egypt's Minister of Housing Assem El-Gazzar, Egyptian Ambassador to Cairo Mohamed Abu El-Wafa, CEO of the General Authority for Investment and Free Zones Mohamed Abdel-Wahab, and CEO of Elsewedy Electric Ahmed El-Sewedy, along with 50 Egyptian businessmen and investors attended the inauguration ceremony.
The EIC is a 2.2 million-square-metre industrial park that aims to attract more than $400 million worth of investments from over 100 investors across the region, the company said.
Developed by Elsewedy Electric's subsidiary, Elsewedy Industrial Development, the company is expected to accommodate labour-intensive industries. This includes chemical, engineering, and mining operations.
During the ceremony, El-Sewedy said the inauguration comes as part of the company's mission to expand in Africa, which started 20 years ago.
"Over this time, Tanzania has remained an important priority in our strategy, which materialised in 2018," El-Sewedy said.
He hailed Tanzania's "favourable investment climate and its government's support to industries," saying this has enabled the company to use the new complex as a manufacturing and export hub at the heart of east and south Africa.
"Tanzania is suitably located, bordering eight countries, six of which are nearly or completely land-locked, which makes Tanzania well-positioned to become a regional economic and transit hub," he added.
Egypt has been engaged in numerous developmental projects in a number of African countries, most notably the Julius Nyerere Hydroelectric Power Project in Tanzania.
In August, the Egyptian consortium undertaking the project, including the Arab Contractors Company and Elsewedy Electric, began installing its first turbine.
Once it is complete, the dam will generate 2,115 mw of clean power to more than 60 million Tanzanians and control the Rufiji River's water flow in the flood season. - Ahram Online