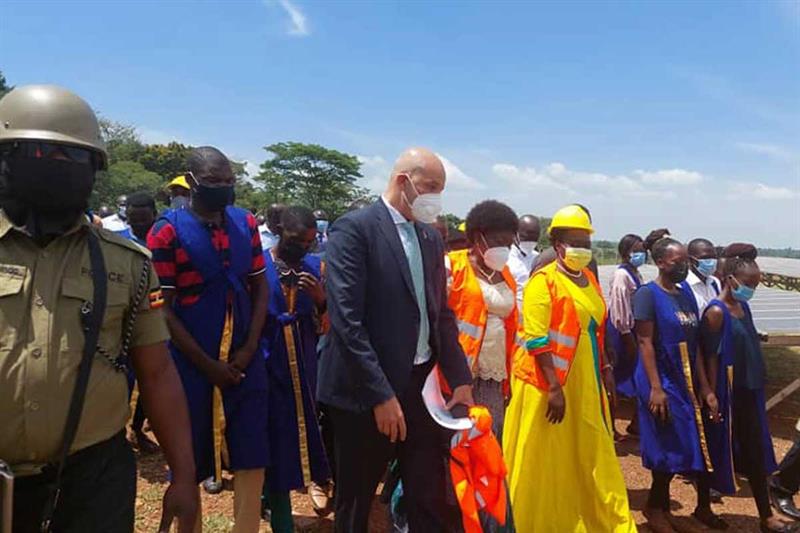 Egypt s Ambassador to Uganda Ashraf Swailem accompanying First Deputy Prime Minister and Minister of African affair Rebecca Kadaga, Minister of energy and mineral resource Ruth Sentamu during the ceremony of handing over the Busia Solar power plant to the Ugandan government on Tuesday. Photo Egyptian embassy in Uganda
Uganda's First Deputy Prime Minister and Minister of African affair Rebecca Kadaga, Minister of energy and Mineral Resources Ruth Sentamu and a representative of Minister of state for Higher of education John Muyungu attended the event, the Egyptian embassy in Kampala reported.
According to the embassy, Uganda's first deputy prime minister and minister of energy expressed their happiness as well as their deep thanks on behalf of the Ugandan leadership to the president and the government and people of Egypt for this great project, and what it represents in strengthening the strength of the extended bilateral relations between the two countries.
The Ugandan officials praised the Egyptian support for the energy sector in Uganda, which is considered one of the main axes of the Ugandan national strategy for development, adding that they were looking forward to more cooperation with the Egyptian side in the field of energy and others, and studying opportunities for future investments, and ways to maximize the benefit from Busia station project.
Ambassador Ashraf Swailem stated that the Busia solar power plant project in eastern Uganda was a significant addition to the Egyptian projects in the country, where the amount of energy provided by the plant reaches 4 megawatts, which will be connected to the Ugandan national electricity grid to maximize the benefit of other regions from the energy generated from the station.
The ambassador highlighted in his word during the event the important role of the Egyptian Ministry of Electricity and Renewable Energy which launched the project and signed its agreement with its Ugandan counterpart ministry.
According to Swailem, the Foreign Ministry's Egyptian Agency of Partnership for Development financed the project with USD 6 million.
The solar power plant was implemented by the Arab Renewable Energy Company in cooperation with Giza System Company. The Arab Renewable Energy Company is one of the Arab Organization for Industrialization Companies' subsidies.
 The Egyptian ambassador in Uganda added that the Busia station project was another example of the great improvement in Egyptian-Uganda relations during the recent period, listing the recent Egyptian projects in the country, which includes the opening of the medical center in Jinja last October and the inauguration of a new phase in joint Egyptian model farm in November and the continuation of the projects carried out by the Egyptian irrigation mission such as removing weeds from Ugandan lakes.
The ambassador explained that the Egyptian support to the plant project in Uganda comes from a belief in the importance of renewable energy to face the repercussions of climate change in Africa and to adapt to it, coinciding with Egypt's presidency of the twenty-seventh session of the UN Conference on Climate Change "COP27", which Sharm El-Sheikh will host next November. - Ahram Online