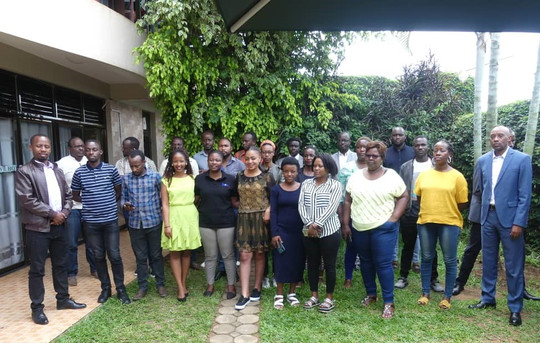 Group photo of workshop participants. Photo via International Federation of Journalists
Speaking at the opening ceremony of a two- day Youth Working Group Workshop on Digital Organising, Trade Union Reform and Youth Recruitment, organised by the Rwanda Journalists Association (ARJ) in collaboration with the International Federation of Journalists (IFJ) under the Union to Union (UTU) Project 2021,   Rushingabigwi emphasised that journalists should always have their readers, listeners and viewers in mind as they execute their noble duties.
"We have observed that there are online journalists who have shifted the public interest to their own interest by only focusing on how much followers and "likes" they can gather, which has really affected their work.  The biggest challenge that we have today is to differentiate between the journalist, blogger and social media influencer, we are simply navigating between media freedom and the freedom of expression".  Rushingabigwi called on journalists working online to be more ethical in order to make a difference. "As journalists we must be able to evaluate ourselves by asking ourselves how well we are serving the public".
The President of ARJ, Aldo Havugimana, expressed that one of the greatest challenges in Rwandan journalism today is the deliberate disregard of journalism ethics. "A good number of young journalists working online show no consideration to the ethics of the profession and simply publish whatever they want.   He lamented that most young journalists especially those who work online are not members of ARJ because of some erroneous beliefs that they have. Such journalists, he said, need some help and ARJ is willing to dialogue with them. Aldo Havugimana also noted that a good number of young journalists do not work for sustainable media houses which to some extent explains the growing number of freelance journalists.
The Director of the IFJ Africa office Pa Louis Thomasi, said that young journalists working online are mostly exploited because they multitask and work for very long hours without proper remuneration. He also highlighted that a very significant number of journalists working in Rwanda and most countries in the Eastern African region work without any form of contracts  and are consistently at the mercy of their employers. He called on the ARJ to revisit its recruitment strategies by conducting a research on the needs and aspirations of young journalists.  "We must be able to convince the majority of the young journalists coming into the profession that unions and trade unionism in general are still relevant and does not damage their career prospects".
The two- day workshop brought together 20 young journalists from the print media, radio, television and online media some of whom are freelance journalists. The workshop dilated on numerous themes, including freedom of expression and labour rights, Online Security and legislations governing the use of the internet in Rwanda; how technology is transforming Media Business Model;   Gender equality and Sexual Harassment and Bullying of female journalists online; and Designing Effective Recruitment and Campaign Strategies for increased youth membership. - International Federation of Journalists