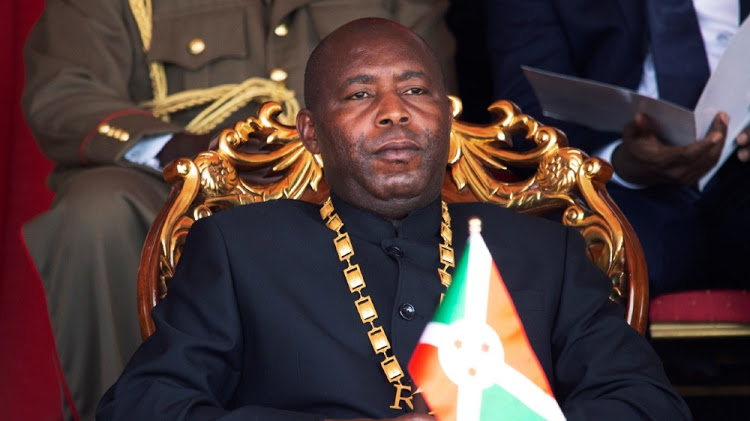 Burundi president Evariste Ndayishimiye. Photo ALJAZEERA
The packaging of Kenya and its available exports within the East African block picks is critical now more than ever before.
With politics in the region seemingly settling and stabilising, Kenya needs to play smart in regaining the central role it used to play in the region economically. Of urgent attention from the Kenyan business community is seizing this opportunity to leverage on these developments.
Governments rarely engage directly in business, but provide conducive policy environments and impetus to allow the private sector to flourish, but in the long run help in ensuring that the country achieves the planned development goals.
In this context and relation to the data available on the trade relations between Kenya and her neighbours, once the private sector takes advantage of the improved infrastructure in the country, political calm and good regional relations, then realising things like the big four agenda, especially on manufacturing and value addition will be easily managed.
Following the change of Government in Ethiopia some years ago, the Government organised a high level visit to Addis to meet with the counterparts and explore the vast business opportunities in that country.
Following that, Safaricom PLC has secured a huge business opportunity. I am sure the Government and the Private Sector are working to visit Tanzania, following the visit of President Samia Suluhu to Kenya and her pronouncement that visa and related permit requirements for Kenyans and other foreigners seeking to trade in that country will be eased.
Next week, Burundi President Evariste Ndayishimiye is coming to Kenya and will hold bilateral talks with President Uhuru Kenyatta and hopefully trade and business opportunities, challenges and related will be discussed.
Once such is done policies deemed frustrating business between the two countries are identified and sorted out, we should immediately start our journey to exporting products to Burundi.
Burundi is a serious and functional destination for Kenyan products, and the president's visit, which will likely include attending the official commissioning of the Port of Kisumu, should excite the business community.
One bright one should ask for the opening up of direct flights from Kisumu to Bujumbura, given the potential exports to that country. Given that the most exported Kenyan product to Burundi is steel and iron, the improvement and operationalization of the Kisumu Port becomes very critical in that sense.
The Kenya Export Promotion and Branding Agency (Keproba) has reported that Burundi was ranked 22nd amongst Kenya's top export destination markets and accounted for 0.9% share of the total exports in 2020.
The total bilateral trade between the two countries averaged Sh6.7 billion over the years 2011 to 2020; and total trade was high in 2014 at Sh 7.9 billion. Kenya's export to Burundi has averaged Sh6.5 billion over the same period 2011 to 2020; and exports were high in 2014 at Sh 7.9 billion while imports from Burundi averaged Sh0.2 billion; and the imports were high in 2011 at Sh 0.5 billion.
Kenya's import market share in Burundi by 2019 was only behind China, India, United Arab Emirates and Tanzania
Data generated from the Kenya National Bureau of Statistics and the Kenya Revenue Authority in 2021 and analysed by KEPROBA show that the main exports to Burundi included iron and steel products, edible preparations, sugar confectionery, articles of paper, articles of plastics, fertilizers, machinery, articles of iron and steel, vegetables fats & oils, pharmaceuticals, electrical equipment, tanning extracts, soaps and detergents, and motor vehicles, with the top 10 products accounting for 62 per cent of total exports to the market in 2020.
KEPROBA indicates that the top import products in 2020 included; coffee, medical equipment, animal fodder, tea, and mechanical equipment and parts with the top two imports accounting for 91.8 per cent of Kenya's total imports from Burundi in 2020.
Kenya's products with potential to Burundi include food products both processed and preserved, ferrous metals, fertilizers, rubber and plastic, chemicals, paper products, alcoholic beverages, manufactured products, vegetable oils, pharmaceutical products among others.
Kenya has abundant natural resources including and competitive workforce, favorable weather and climate that is conducive to business in agriculture, strategic location making it a gateway to Uganda and Central African which offers unique business opportunities, stable communication structure, and financial institutions, availability of business support institutions, agencies and market for finished products.
Of the noted challenges to Kenyan exports is the lack of value addition to our products- we largely export raw materials, which are then turned into finished products elsewhere and imported to the country and high cost. - Victor Bwire, The Star