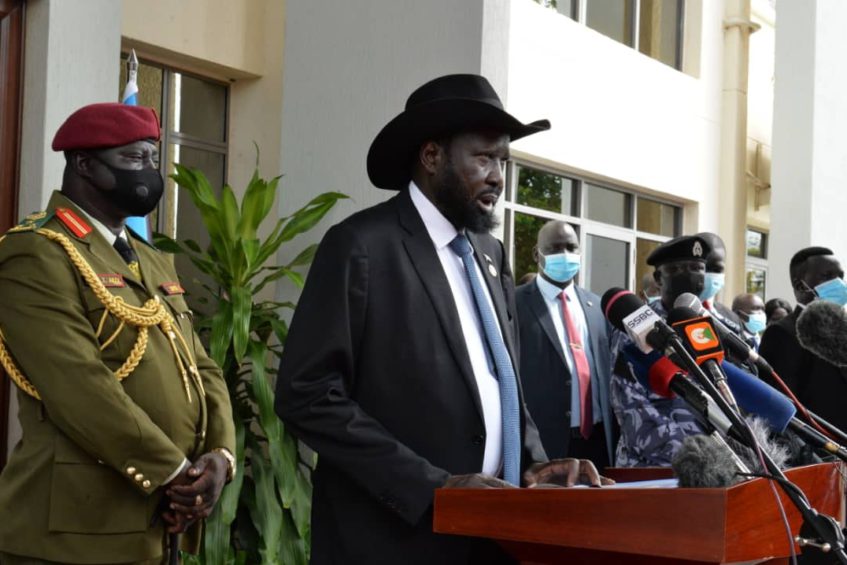 President Salva Kiir Mayardit addressing the nation on 10th Independence Day in Juba at state house J1. Photo by presidency
JUBA – South Sudan's President Salva Kiir Mayardit has ordered the ministries of finance and petroleum to dedicate at least 5,000 barrels of crude oil per day to the regularization of the civil servant's salaries.
The president made the revelation on Wednesday while addressing the nation as the country marks ten years since obtaining its independence from neighboring Sudan following decades of war in 2011.
"Today, I am directing the two ministries, the ministry of finance and economic planning and that of Petroleum to dedicate 5,000 barrels of the Nile Blend to strengthen the financial spending of the government in order to regularized salaries salary and operation fund payment," Kiir said.
As of today, one barrel of the Nile Blend crude oil is traded at $32.77 in the world market, meaning 5000 barrels of it is equivalent to 163,850 which would make $4,915,500 per month.
Since the outbreak of civil war in December 2013, civil servants could wait for several months before receiving their monthly salary which even does not cover for basic living costs.
The president revealed during the addressed that he has ordered a 100 percent increment of all civil servants' salary, meaning a soldier who currently receives 1500 South Sudanese Pounds will now get 3000.
"In the 2021-2022 budget the government has resolved to increase salaries by 100% as phase one with immediate effect and will be fully reviewed later on during the financial year as the economy improve," Kiir added. - Sudans Post