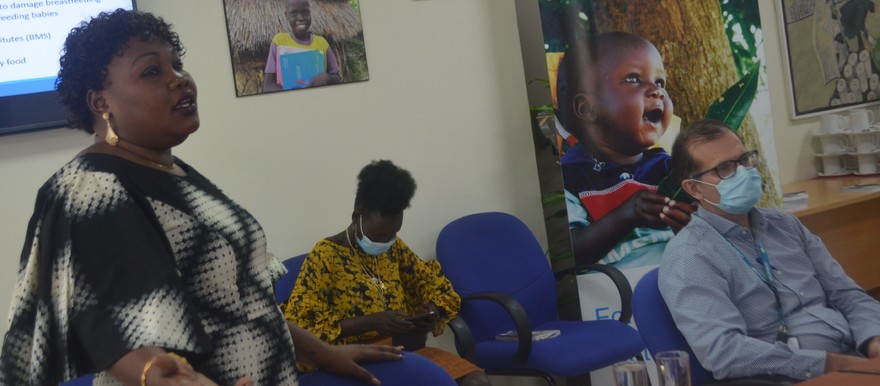 Photo via Radio Tamazuj
South Sudan's Ministry of Health and the UN children's agency, UNICEF are reiterating their calls to policymakers to protect and promote the practice of breastfeeding in South Sudan. The two institutions are urging breastfeeding mothers across the country to increase the practice of exclusive breastfeeding for infants up to six months of life.
This comes as the world commemorates World Breastfeeding Week from 1 to 7 August,
Speaking during a press conference in UNICEF Compound in Juba on Thursday, Rita Juan Demetry, the Senior Nutrition Inspector at the Ministry of Health echoed the calls.
"The Ministry of health together with UNICEF and all the implementing partners would like to urge all citizens and duty bearers of South Sudan that we must protect and protect exclusive breastfeeding of infants until they reach six (6) months of life. Because breast milk is the best milk, breast is the best milk that you don't find in the market," she said.
Demetry emphasized that mothers across South Sudan should breastfeed their children within the first 6 months from delivery.
 "This simple and natural act of breastfeeding is one of the most valuable gifts a mother can give to her child. Exclusive breastfeeding to an infant is so important from zero to 6 months of life. This is so important and it starts from within an hour of birth up to six months. And this is to nourish the child and protect the child from many childhood illnesses and malnutrition," she said.
Rita Demetry says more needs to be done although South Sudan has increased the breastfeeding rate from 45% in 2010 to 68% in 2020.
"Although South Sudan has made significant progress in increasing the exclusive breastfeeding rate since independence, it is not enough because 3 out of 10 children today are still being denied their right of breastfeeding and the start of life," she said.
In a statement to the media during the press conference in Juba on Wednesday, the UNICEF Nutrition Officer, Jesca Wude Murye explained the importance of breastfeeding for babies.
"Breast milk contains antibodies that protect against diseases, and then breastmilk is ready at the right temperature, breastmilk contains enough water and is easy to digest. When you look at the breast milk you don't need to get it to be heated, the baby just sucks immediately and they are okay and comfortable. It helps the jaw and teeth development of the child, it also promotes optimal physical growth and cognitive development and then long term benefits in terms of reducing risks of obesity and diabetes," UNICEF Nutrition Officer Jesca Wude Murye explained.
Murye added that breast milk is whole food for babies for up to 6 months before introducing complementary foods to them. - Radio Tamazuj