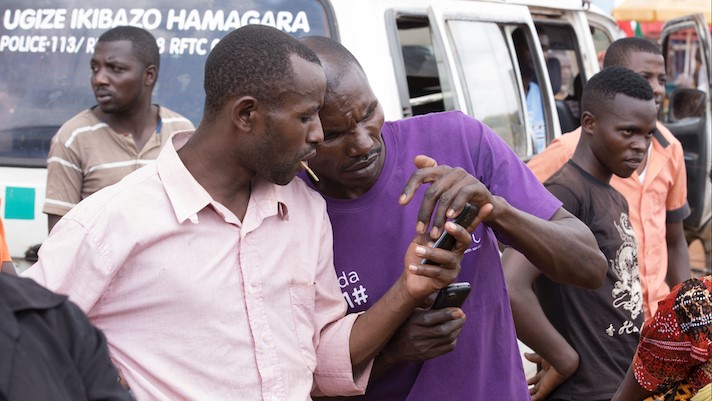 Photo courtesy Babylon
Digital health chatbot Babylon is expanding its work in Rwanda, aiming to make it easier for folks who don't have a cell phone number to access its health services. 
The company is broadening its work with Rwanda's National ID Agency (NIDA) in order to help patients register and access medical appointments. 
Previously, only individuals with a cellphone could register for Babylon's local service, called Babyl, by entering their mobile phone using their National ID number. However, individuals without phones weren't able to complete the process. The new deal will let Rwandans use any shared digital or analog device to register, have a digital consultation with a clinician, and get a prescription by entering their national ID. 
Babylon has been working in Rwanda since 2016. In March 2020, the company signed a 10-year partnership with the Rwandan government giving every person over the age of 12 access to digital health consultations. The company now boasts that over 30% of adults in Rwanda have registered with Babyl. 
WHY IT MATTERS 
While Rwanda's smartphone use has been rapidly growing over the last decade, it is still far from universal. According to Statista, there are around 76 mobile cellular subscriptions per 100 Rwandans in 2019.
"I'm proud that Babylon has been able to remove another barrier to healthcare for Rwandans, especially for women," Babyl managing director Shivon Byamukama said in a statement.
"We're committed to working with the government and relevant authorities, such as NIDA, to continually improve and innovate Rwanda's healthcare system as they become one of most advanced countries for digital health. This important change brings us one step closer to our mission of putting high-quality accessible and affordable healthcare in the hands of every person on Earth."
THE LARGER TREND
U.K.-based Babylon recently announced its plans to go public via a $4.2 billion SPAC merger with Alkuri Global Acquisition. The company has a long history of venture interest. In 2019, it scored a whopping $550 million Series C  funding led by the Saudi Arabian crown prince. Just a year later it raked in $100 million in a convertible loan led by Swedish venture fund VNV Global. 
While the company got its start in the U.K., it has been expanding into new markets. In 2020, it launched its chatbot service in the U.S. The company has also worked in Canada. It officially launched its service Babylon by Telus in 2019. Since then it sold off its Canadian operation to partner Telus in a licensing deal worth roughly $70 million. - Laura Lovett, MobiHealthNews