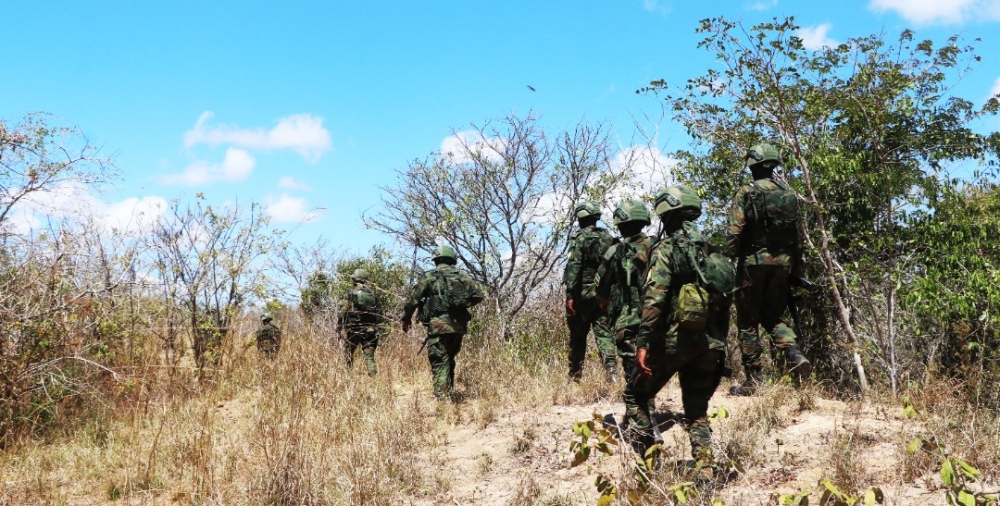 Photo Courtesy New Times
Rwanda security forces involved in counter terrorism and counter insurgency operations in Mozambique's northernmost province of Cabo Delgado on Friday, October 21, discovered another pile of hidden weapons abandoned by the Islamic State-linked terrorists.
The weapons were hidden in the terrorists' former bases in Miloli in the general area of Limala forest, southeast of Mocimboa da Praia District. The areas in which these weapons were discovered were terrorist strongholds before they were dislodged by the Mozambican and Rwandan forces in August 2021.
A statement by the Ministry of Defence indicates that the terrorists have attempted "several times to return to recover the weapons to no avail."
Operations in which the stockpiles are found are a pre-emptive move to deny the terrorists the opportunity of returning and re-arming for further insurgent actions. Rwanda security forces discovered the first stockpiles of weapons and ammunitions hidden by the terrorists, on October 15, in the thick forest region called Mbau, southeast of Mocimboa da Praia District.
The terrorists were fully defeated in Palma and Mocimboa da Praia Districts, the two districts under the charge of Rwandan security forces, but the terrorists are lurking around in neighbouring districts.
Rwandan and Mozambican security forces in these two districts are alert to ensure that the terrorists don't return to disturb the peace.
How Rwanda deployed in Mozambique
On July 9, 2021, at the request of Maputo, Kigali deployed troops to the Province of Cabo Delgado to help fight the terrorists, stabilize the area and restore state authority.
Barely two weeks after landing, Rwandan and Mozambican forces were circling major bases of the terrorists, and capturing them.
On August 8, 2021, the joint forces captured Mocimboa da Praia, a port city that was headquarters of the terrorists for nearly five years. The capture of the port city dealt a heavy blow to the terrorists who had driven around 826,000 people from their homes and killed more than 2,000 others, in the Province.
Later, that month, Rwandan and Mozambican forces hemmed in the terrorist group's last major areas of operation, Siri I and Siri II, and Mbau, located in vast thick forests. A few weeks later, the joint forces started helping hundreds of people displaced by the terrorists in Cabo Delgado return to their homes.
The first and second phases of the Rwanda security forces operation were planning and movement of troops, respectively. During the decisive third phase, Rwandan and Mozambican forces, quickly defeated and dislodged the terrorists from their strongholds in Palma and Mocimboa da Praia Districts. The two districts are the Rwandan security forces' area of responsibility. 
In Palma and Mocimboa da Praia Districts where Rwandan security forces operate, more than 130,000 internally displaced persons returned to their villages. Currently, the Rwandan security forces in Cabo Delgado, are conducting the fourth phase – stabilisation – where, along with the host nation's forces, they help people to return to their villages and ensure that they get access to, among others, healthcare. By James Karuhanga, New Times