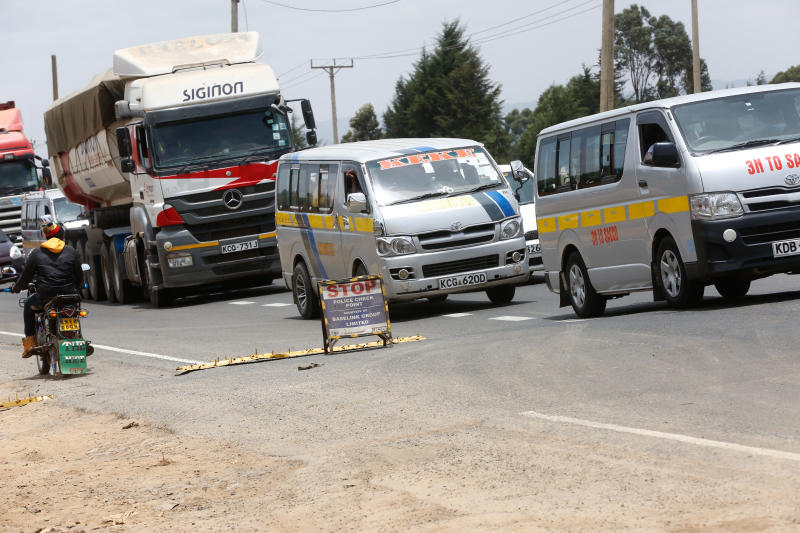 Vehicles passing the Mau Summit police roadblock after Government Spokesman Cyrus Oguna announced an extension of the restrictions for 24 hours on March 27, 2021. Photo Kipsang Joseph
A move by police to erect blockades along the boundaries of the five counties affected by the State's cessation of movement resulted in a massive traffic gridlock yesterday.
With transport coming to a standstill for hours, the government was forced to back down and give a grace period for people to travel in and out of Nairobi, Kiambu, Machakos, Kajiado and Nakuru.
Travellers rushing to western Kenya caused a massive traffic jam along the Maai Mahiu Road as they tried to leave Nairobi following President Uhuru Kenyatta's directive on Covid-19 travel restrictions.
It was the same situation in Nakuru and at the Chania Bridge, which connects Nairobi and Mt Kenya counties. The traffic jam stretched for kilometres with truckers making the already bad situation worse.
Police had a hard time trying to restore order as they directed truckers headed to Mombasa to use the Thogoto-Mutarakwa road because other motorists had overlapped.
Janet Bosibori, who was headed to Kisii, said she got stuck in the jam on Friday as she tried to flee from the city. "I was escaping Nairobi to get to Kisii in good time for a family event, which I felt that I must attend. My bid to escape has not paid any dividends as daybreak has found me here trying to weave my way out."
Stranded passengers recounted their suffering after leaving Nairobi on Friday evening only to be caught in heavy traffic along the Nairobi-Nakuru and Nairobi-Maai Mahiu highways where they spent the night.
The gridlock was occasioned by a sharp increase in number of travellers leaving Nairobi for upcountry, with everyone trying to beat the midnight deadline.
Philip Kimani, who was headed to Eldoret, said he left Nairobi at 5pm only for the curfew to catch up with him while he was still kilometres away from his destination.
"We were forced to spend the night in the bus at Maai Mahiu due to the traffic snarl-up. When the road was cleared, we travelled to Mau Summit arriving there at 11am," said Mr Kimani.
But Mau Summit happened to be the spot for one of the roadblocks erected to restrict road movement by persons into Nakuru from Uasin Gishu and Kericho.
Lillian Akinyi, who was heading to Mumias, said they were forced to disembark from the bus that was impounded and held at Mau Summit Police Station.
"I had left Mombasa and arrived in Nairobi on Friday at 2pm. I didn't realise the President had issued a new order and took a rest. It dawned on me when I was looking for a matatu to western Kenya only to find the terminus crowded," said Ms Akinyi.
Rift Valley Regional Commissioner George Natembeya said nine roadblocks will be set up. One of the roadblock was placed at Mau Narok-Mwisho Wa Lami to restrict movement of people from Narok. There was also another active roadblock in Subukia to stop those coming or going to Laikipia and Nyandarua.
Mr Natembeya, however, could not explain why a blockade was put at Maai Mahiu, which borders Nakuru and Kiambu, instead of Suswa that marks the boundary with Narok.
Other roadblocks will be active today at Dundori Market on the Nakuru-Nyandarua border, Kambi ya Moto near Baringo border, Karunga in Gilgil as you head to Ol Kalou, and at Kinungi on the Nakuru-Nairobi highway.
At Lari along the Nakuru-Nairobi highway, a multi-agency team comprising officers from the rapid deployment unit, and regular and administration police had mounted a road block that caused confusion.
Back routes
Most motorist did not understand why the barrier was erected there because Lari is in Kiambu and, according to the President's directive, the barrier should be outside the county. This led to matatus dropping off passengers one kilometre away. Boda boda operators then used back routes to take the travellers past the barrier.
Lari deputy OCPD Charles Opondo said, "We are here for enforcement of Covid rules. We are basically checking that everyone has a mask and social distance is maintained. This is a very friendly check point."
In Mt Kenya, PSV operators hiked fares to various destinations minutes after the stiffer travel measures were announced.
There was traffic snarl-up from Karigu-ini to Kenol town and between Makuyu and Kenol following increased traffic to Nanyuki. 
Traffic police were overwhelmed by the high number of road users who were taking shortcuts to avoid being caught by curfew.
The lucky drivers are the ones who opted to use the Kenol-Murang'a-Sagana route to reach their destinations as hundreds spent the night in the gridlock between Kenol and Makuyu.
Stephen Macharia, a driver, said he left Nairobi at 5pm and arrived in Karatina after 1am. - George Njunge, Boniface Gikandi and Kennedy Gachuhi, The Standard