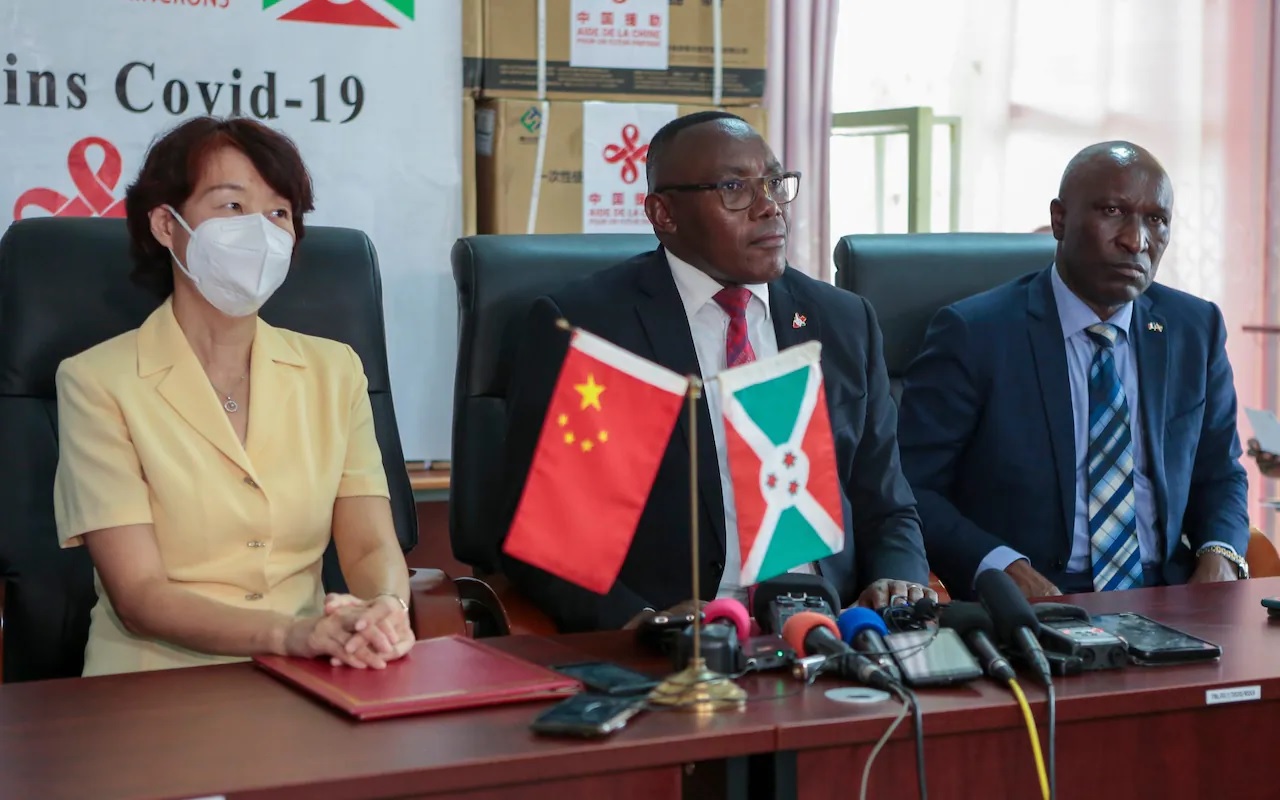 Burundi's Minister of Health Dr Thaddee Ndikumana, centre, Minister of Interior Gervais Ndirakobuca, right, and China's ambassador to Burundi Zhao Jiangping, left, mark the arrival of the first Covid-19 vaccines to the country. Photo Berthier Mugiraneza /AP
Burundi has started to roll out its first Covid-19 jabs, leaving just Eritrea and North Korea as the only countries on Earth not to begin a vaccination drive.
The news comes after a year and a half of tentative coronavirus policies in the East Africa nation of 11.5m people.
The East African nation recently received half a million Sinopharm doses from China as a donation. The vaccination campaign started on Monday in the commercial capital of Bujumbura. 
No government officials were reportedly present at the opening, and dozens of people queued quietly at a vaccination site, saying they heard about the drive only through word of mouth.
"I rushed to take the vaccine because I have a trip very soon and, of course, I also want to protect myself," 30-year-old Blaise told Reuters. "People's fears are groundless. I am reassured by the fact that I was with a doctor when I got it."
Pierre Nkurunziza, Burundi's former strongman president, downplayed the severity of the virus at the beginning of the pandemic and did not take significant measures to curb its spread. 
In June 2020, The Telegraph quoted opposition sources saying that Mr Nkurunziza may have become the world's first leader to die of the disease. 
The news comes as confirmed cases across sub-Saharan Africa fall to their lowest rate since the beginning stages of the pandemic.
On October 18, Africa recorded its lowest level of new cases – just 1,844 cases – since March 16, 2020, according to the World Health Organization (WHO).
Earlier this week, Kenya reported a positivity rate of 0.9 per cent, with only 33 people testing positive for the virus. South Africa reported that its rate has dropped to 1.4 per cent, with only 210 new cases on Monday. These are some of the lowest rates since the pandemic began. 
These testing figures only show a warped version of reality, however. Last week, the WHO's Africa Director, Dr Matshidiso Moeti, said that an estimated six out of seven coronavirus cases go undetected in the region. 
Dr Moeti said that while some eight million cases of coronavirus had been detected in Africa since the beginning of the pandemic, more than 50 million cases are estimated to have gone undetected.
Despite the fall in cases, however, the vaccine rollout remains slow across the continent. Less than five per cent of Africans are full vaccinated, according to Africa Union (AU) data, compared with more than 60 per cent in the European Union.
This shortfall is primarily due to supply issues. Most African countries have been highly effective at distributing Covid-19 shots. Africa had used more than 70 per cent of the vaccines it had received, according to the UN. - Will Brown, The Telegraph