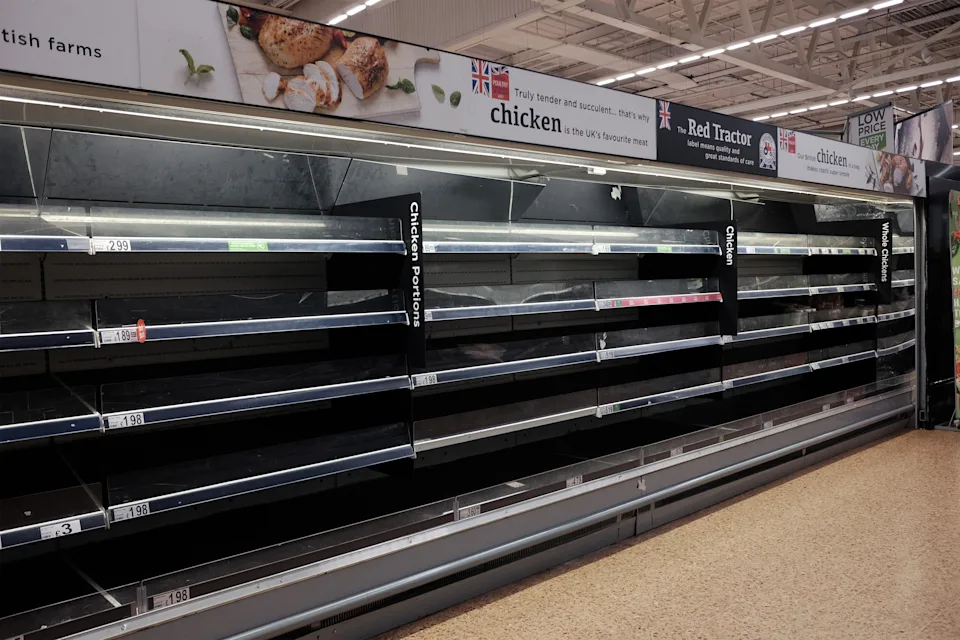 British meat products could start disappearing from supermarket shelves in a handful of days amid the worsening energy crisis. 
The recent surge in the cost of gas is threatening to hit consumer's pockets and supply chains, with gas prices rising 70 per cent in August alone. 
As a result there has been a slowdown in the amount of fertiliser produced by factories, which is in turn causing a knock-on reduction in the amount of CO2 being produced.
The meat industry - in particular the pig and poultry industry - uses CO2 for humane slaughter.  
According to Nick Allen, chief executive of the British Meat Processors Association, 80% of pigs and poultry are slaughtered using that process.
"Those plants closed, and they account for about 60% of the CO2 produced in this country," Allen said.
"They closed at very short notice with no warning; it really hit us cold. 
"We're hoping and praying the Government can negotiate with these plants to reopen. But even then, it'll take about three days to restart."
Mr Allen told BBC there is between five to 15 days' worth of meat supply left. 
"Then they will have to stop," he said. "That means animals will have to stay on farms. 
"That will cause farmers huge animal welfare problems and British pork and poultry will stay off the shelves. We're two weeks away from seeing some real impact on the shelves."
Business secretary Kwasi Kwarteng is due to hold crisis talks today with senior members of the gas industry to discuss how to respond to deteriorating situation. 
"I understand this will be a worrying time for businesses and consumers," wrote Kwarteng on Twitter last night. "We are working hard to manage the impact of global gas price rises. 
"Unfortunately, small energy suppliers are facing pressures due to sudden increases in global gas prices." 
And it's not just the meat industry facing a crisis - there are concerns that the gas crisis could put the NHS under pressure. 
Speaking to Times Radio this morning Lord Adebowale, chair of the NHS Confederation, said: 
"We have to prioritise the NHS in all this because otherwise people will suffer. But what it does really show is how interconnected it all is and we have to look at things systematically. 
"It's not just one thing, it's a number of things." Nadine Batchelor-Hunt, ·Political Correspondent - Yahoo News UK