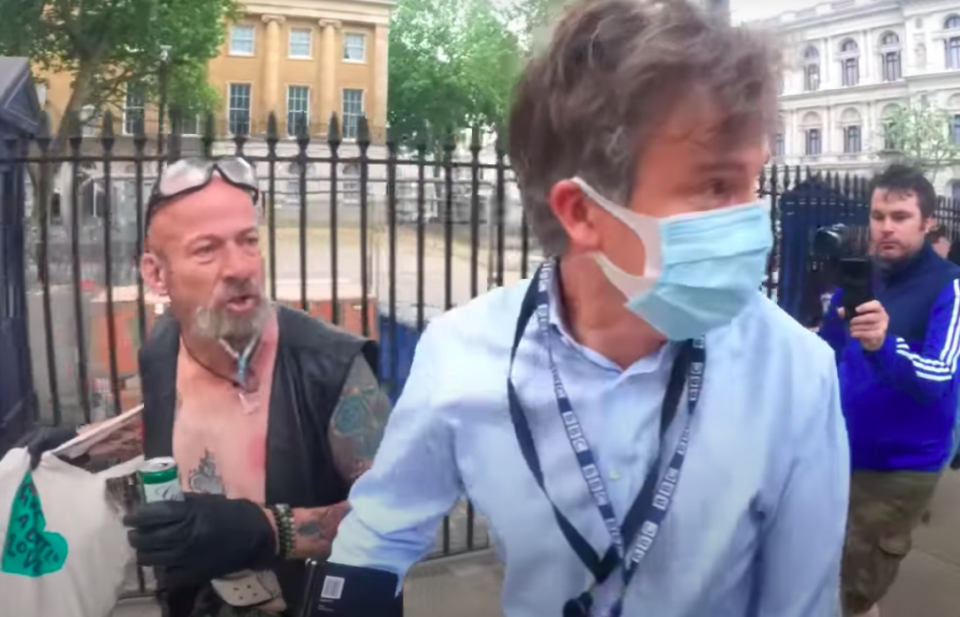 Photo Courtesy Yahoo News
Boris Johnson has condemned 'disgraceful' footage of a BBC reporter being chased and abused by a group of anti-lockdown protesters.
A video clip posted by an anti-lockdown group shows BBC Newsnight political editor Nick Watt pursued through Whitehall in central London on Monday.
In the footage, taken outside Downing Street, Watt runs for his safety while being chased and shouted at by a number of people.
The Metropolitan Police, which was present outside Downing Street at the time, has launched an investigation but said its officers "were not in the immediate vicinity of the incident".
Clearly concerned for his wellbeing, the Newsnight journalist starts running to get away from the chasing mob as they continue to shout abuse at him.
In the three-minute clip, they can be heard shouting "traitor", "run you ****" and "shame on you" at the journalist.
Downing Street said the prime minister had seen the footage, describing it as "deeply disturbing". "Journalists should never face that kind of behaviour. The right to protest may be fundamental in our democracy but violence, threats and intimidation like this is never acceptable," a spokesperson said.
Johnson tweeted: "Disgraceful to see the hounding of Nick Watt doing his job. The media must be able to report the facts without fear or favour – they are the lifeblood of our democracy."
The clip was posted on YouTube by Resistance GB, a group that claims to be "anti-lockdown, pro freedom, liberal" on its Instagram page.
In the video, Watt is followed by a number of protesters, one of whom grabs him by the shoulder, while others shout in his face.
To escape the protesters, he eventually runs past a police cordon and into the Downing Street entrance.
The incident happened on the day Boris Johnson announced a four-week delay to the end of England's COVID-19 restrictions.
The BBC condemned the behaviour of the protesters.
A spokeswoman for the BBC told Yahoo News UK: "This behaviour is completely unacceptable. 
"All journalists should be able to carry out their work without intimidation or impediment."
On Twitter, there was widespread support for Watt from his fellow journalists.
Newsnight editor Esme Wren said: "Harassing and intimidating any journalist is completely unacceptable. 
"All journalists should be able to do their work without impediment or risking their safety." 
Jess Brammar, a former Newsnight deputy editor, tweeted: "The video of Nick Watt being chased and abused by a mob is absolutely horrifying.
"Huge solidarity with him. It's disgusting, he's doing his job. I know the BBC will be rightly furious about it."
Journalist Paul Mason, who also worked at Newsnight, said: "Solidarity with BBC journalist Nick Watt. 
"The harassment of journalists by far-right penetrated groups is part of a street atmosphere that's been allowed to fester around Whitehall since late 2019."
Sky News presenter Adam Boulton tweeted: "These sorts of encounters are becoming commonplace for reporters in #ageofrage. All support to Nick Watt."
Labour MP David Lammy wrote: "Absolutely horrific. Solidarity with Nick Watt. 
"It is a fundamental principle of any democracy that journalists are free to do their jobs without intimidation."
Home secretary Priti Patel tweeted: "The video of BBC Newsnight's Nick Watt being abused by a mob is appalling and distressing. This behaviour is never acceptable."
In a statement, the Metropolitan Police said: "We are aware of a video that has been shared online which shows a journalist being aggressively confronted and chased by a group of protestors in the vicinity of Whitehall on Monday.
"The behaviour shown in the video is unacceptable.
"In this instance, while officers were nearby as part of the policing response to the ongoing protest, they were not in the immediate vicinity of the incident. 
"It was not clear at the time exactly what had taken place but after reviewing the video footage, a number of possible offences have been identified and an investigation has been launched."
The force asked anyone with information that could help identify those involved to call 101 or tweet @MetCC, or call Crimestoppers anonymously on 0800 555 111. By Ross McGuinness, Yahoo News