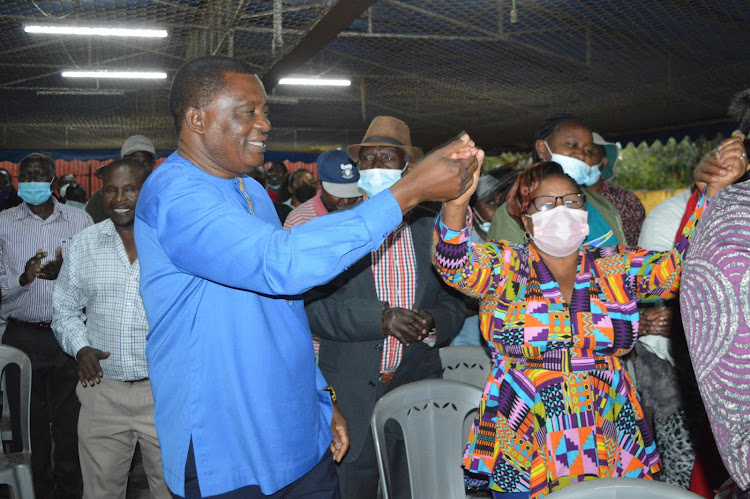 Unity
National Assembly Speaker Justin Muturi in Kiambu. 
The presidential campaign launched eight months ago by Speaker of the National Assembly Justin Muturi is facing headwinds after some of his top strategists quit.
They have cited frustration caused by a close aide to the Speaker.
Some of those who have been working in the campaign complained that a key aid to the Speaker was making decision they consider unpopular and that could harm his bid. 
Insiders close to the Speaker who had been retained to manage different dockets at a campaign centre based near Nairobi's Westlands suburb, said majority of them have eased off, "owing to the close aide's behaviour to engage the candidate in campaign forays without involving the larger team".
"The campaign strategy teams have all but ceased operations, the candidate is now being managed by one aide only. What started as a very vibrant campaign has now fizzled due to the disorder caused by the Speaker's close ally," said one campaign operative in the strategy team.
The Speaker returned from a two-week trip from the United States two weeks ago and then travelled to Nigeria on an official engagement. He  has held only one event in three weeks, compared to other presidential challengers who do excursions almost on a daily basis.
Sources among campaign strategists and communications teams, who were hired about months ago and stationed at the Thigiri campaign headquarters, say the single-handed management of the candidate could collapse what had started as a vibrant campaign that was at first drawn to position Muturi as the Mt Kenya spokesperson.
Muturi's campaign started on a high note in May, with the Speaker being coronated the Mt Kenya region spokesperson by elders drawn from all regions of central Kenya.
A team of eight strategy and communication personnel was formed to position his candidature.
Muturi is also said to have built another team of seven politicians and two members of academia, to work as his think tank, operating from his newly built JB campaign centre. 
Sources say the strategy and comms team were pooled together at some point, resulting in a stepped-up campaign surge that peaked in June.
"Our campaign started taking a down-turn in August and September, as one of us started a lone move to manage the candidate alone and make him unreachable by the strategy and comms teams. He also started locking out our partners who have been supporting the candidate," said an insider.
This has been linked to present poor show of Muturi in national opinion polls.
Muturi did not feature anywhere in an opinion poll releases on Friday by Tifa research on preferred next president. 
The poll ranked Deputy President William Ruto leading at 38%, Raila Odinga at 23%, Musalia Mudavadi 2%, Kalonzo Musyoka, Alfred Mutua and Martha Karua at 1% while the rest were classified as "others" with 2%.
The poll has jolted some of those who were initially working closely with Muturi  saying management issues at the campaign centre was to blame.
Insiders have complained that the initial thinks tank found itself without work as one of the aides started managing the candidate's diary like a secret.
Prolific newspaper columnist Prof Peter Kagwanja, who was one of think tank's political strategists was said to have quit around September.
The comms team is said to have slowed down on its duties after it discovered that the aide had hired parallel social media outfits to manage daily trending and live Twitter live Q and As with the candidate. The Star