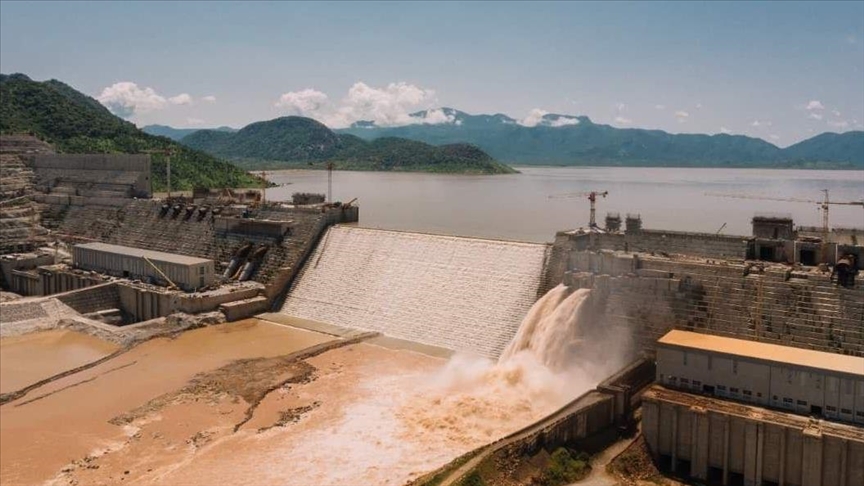 GERD reservoir reaches overtopping water level on July 19, 2021. Photo Anadolu Agency
Burundi believes the right to life for Egyptians comes before the right to development for Ethiopia in a row over a project, the country's top diplomat said Tuesday.
He was speaking about the dispute over the Grand Ethiopian Renaissance Dam (GERD), a $4 billion hydropower project on the Blue Nile River which Ethiopia argues is crucial to its economic development and for providing power.
The project has triggered worries over water shortages and safety in Egypt and Sudan, which also depend on the Nile River's waters.
Speaking at a joint press conference with his Egyptian counterpart Sameh Shoukry in the capital Cairo, Burundi's Foreign Minister Albert Shingiro said that while the hydropower project is a very sensitive issue, access to water is a matter of "life or death" to Egyptians.
"The right to life should always come before the right to development because, without the right to life, the right to development cannot be enjoyed. The choice here is clear," Shingiro said.
Dismissing a military option to resolve the issue, the top Burundian diplomat underlined the need for the GERD dispute to be resolved through negotiations, cooperation, and legal agreements binding to all parties.
"We believe in the power of diplomatic endeavors and good deeds," Shingiro said.
He reiterated his country's support for the initiative of the Democratic Republic of Congo, the current chair of the African Union, to mediate between Egypt, Sudan, and Ethiopia.
"We believe that we should work on encouraging dialogue to reach solutions that would spare us tensions," said Shingiro.
Egypt and Sudan have said while they support Ethiopia's plans to build the GERD in order to further its economic development goals, such development should not come at the expense of the interests of downstream countries.
The two countries' attempts over the years of trilateral negotiations to convince Ethiopia to sign a comprehensive and legally binding agreement on the filling and operation of the dam to safeguard all parties' interests are yet to bear fruit.
In July, Ethiopia announced the completion of the second filling of its controversial dam, despite the lack of an agreement with Cairo and Khartoum.
Shoukry commended Burundi, saying it has always supported Egypt after an "understanding of the core issues affecting Egyptian national security."
Egypt has raised concern over the dam project, fearing its Nile water supplies, on which its life almost entirely depends, would be affected. Sudan has also expressed its fears about the dam's safety and the effect on its own dams and water stations.
Last July, the United Nations Security Council backed an African Union bid to mediate the dispute and called for all parties to resume talks.
The US had also warned that Ethiopia's filling of the dam had the potential to raise tensions and urged all parties to refrain from any unilateral actions. - James Tasamba, Anadolu Agency