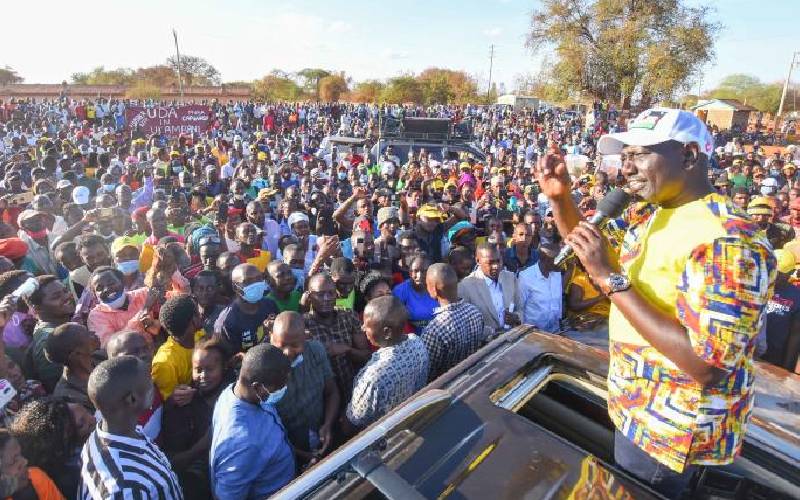 Deputy President William Ruto has come under sharp criticism after pledging to give Mtito Andei commercial sex workers Sh1 million.
While addressing a rally at the town in Makueni county on Monday, a woman who claimed she was a sex worker identified herself as Caro. She urged the DP to come to her aid and that of her colleagues who do not want to earn a living as sex workers anymore. 
DP Ruto told the call girls to organise themselves in a Sacco so that he can wire the money to them.
The DP's promise came after the woman appealed to him to expedite the release of the fund so that they can venture into respectful businesses.
Social media user Silvester Nyaberi said Ruto always uses the Bible to make him look more Christian than others.
"Where in the church or Bible does it say prostitution is actually allowed? Ruto is so desperate that he can do anything to be the president. Let's look at his past promises. How many of them did he actually achieve? Almost none. Now he is promising everything just to get votes. Don't cry later," Nyaberi said. 
Jessie Jackson said, "They must be over 500 of them so each one will get Sh2,000 which won't help them. This is what is called a handout. 
"You can help them by getting them to work in a company. A sacco won't help them because they'll still need to "work" to grow the Sacco. They'll need a source of income meaning they'll still go back to prostitution."
But Nick Danson seemed to support the DP by saying the prostitutes are also human beings.
He added, "But some people treat them as if they are animals. If Ruto plan can make them change to other businesses, even God in heaven will be happy."
Stephine Nyasirwa criticised the DP saying, "It's very bad for those who attend church to have encouraged such acts instead of helping them find something they can do. Kenya we are very far in terms of intelligence."
James Kamau said the DP's support can be taken to mean that he supports women and girls going into prostitution. 
Other users like Saul Ouma cast doubts on the DP's pledge, saying it was not the first time he was promising to dish out money and not following through.
Fred Gadafi on the other hand added that there are other businesses DP Ruto would have supported in Ukambani.
His comments were echoed by Frank Kinyua who said it would have been more helpful for the DP to support street children instead.  By Jael Mboga, The Standard