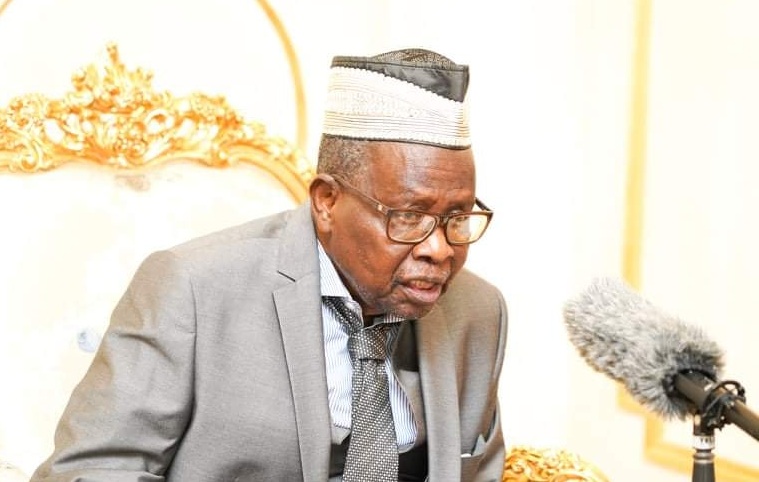 Veteran South Sudan politician and leader of the guerilla movement, Anyanya one, Joseph Lagu speaking to the media at the presidency. Photo via presidency
JUBA – South Sudan's veteran politician and leader of the guerilla movement, Anyanya one, Joseph Lagu has called on his country's political leaders to embrace peace and shun acts that can lead to the disintegration of African youngest nation.
Lagu made this call following his meeting with President Salva Kiir Mayardit at state house on Tuesday.
"God bless him (Salva Kiir) God bless the Country he is leading and God bless our neighbor and keep us friendly. No war amongst us and with our neighbors. Peace has come and it will stay now and forever," Lagu said on Tuesday.
Lagu applauded President Salva Kiir for fostering development in the country.
"I am very happy to come and see the President of our country, chat with him, and thanks to him for all that he has been doing to promote the affairs of our beloved country South Sudan," he said.
The Former Vice President of Sudan urged the government to strengthen bilateral relations and cooperation with neighboring Sudan.
"I think, hope, and pray that our President Salva Kiir will live much longer and promote the affairs of his people and the nation as well as be friendly with our neighbors all around starting with Sudan, Egypt, and the rest of African countries," he said.
He stressed the need to promote peaceful coexistence and stability to enhance sustainable development in the country.
"We are happy that he (President Kiir) is leading the people very perfectly well and when I return from Europe and saw the country, I could not realize that this was Juba we had seen before, it has completely changed starting from airport, it seems to be different country altogether," he said. - Sudans Post