By FLEVIAN MUTIE
In every new day, some parts of Kenya's capital, Nairobi have their roads murky and trenches filled with garbage. From the heaps emanates a foul stench. Smelly water oozing from the nearby heaps snake down in curls and zigzags, and invariable stream ends down the Nairobi River which flows across the city. The River doesn't leave behind any kind of filth on its way, thousands of plastic bags and bottles, entangled hair wigs, bones all flow with it, however, when it rains, the pile becomes incredibly terrifying.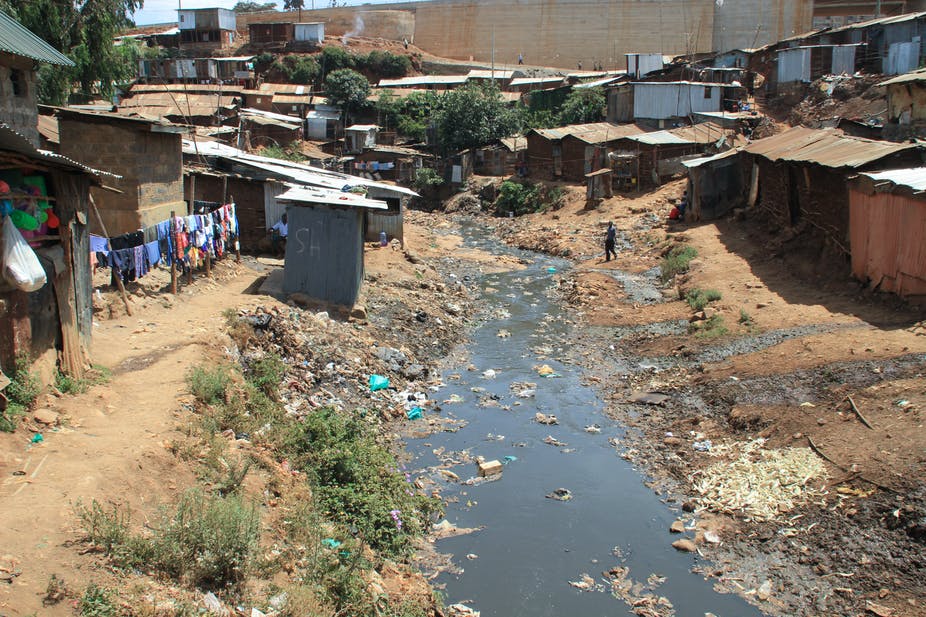 Photo by Flevian Mutie
Eventually, the river has become so polluted with all kinds of garbage, industrial effluent and sometimes dead animals are washed down the drain and into the same flow. Alfred Oyugi, a Nairobi resident, narrating to IEA News, says he used to reside in Korogocho. Alfred recalls how he used to mobilize his peers during his childhood where they would carelessly jump into the river and swim without any kind of care or concern.
"We would do this every day after school, and as swimming was one of our sporting activities, we would compete to see who emerged the best in it, the water was so clean as opposed to its current state," he says. Like many water bodies in the sub-Saharan area, a big population across the capital depends on the Nairobi River. The river has recently experienced serious cases of pollution, deeming its water unfit for both humans and animals, although the Kenyan herdsmen have always used it to quench the thirst of their animals.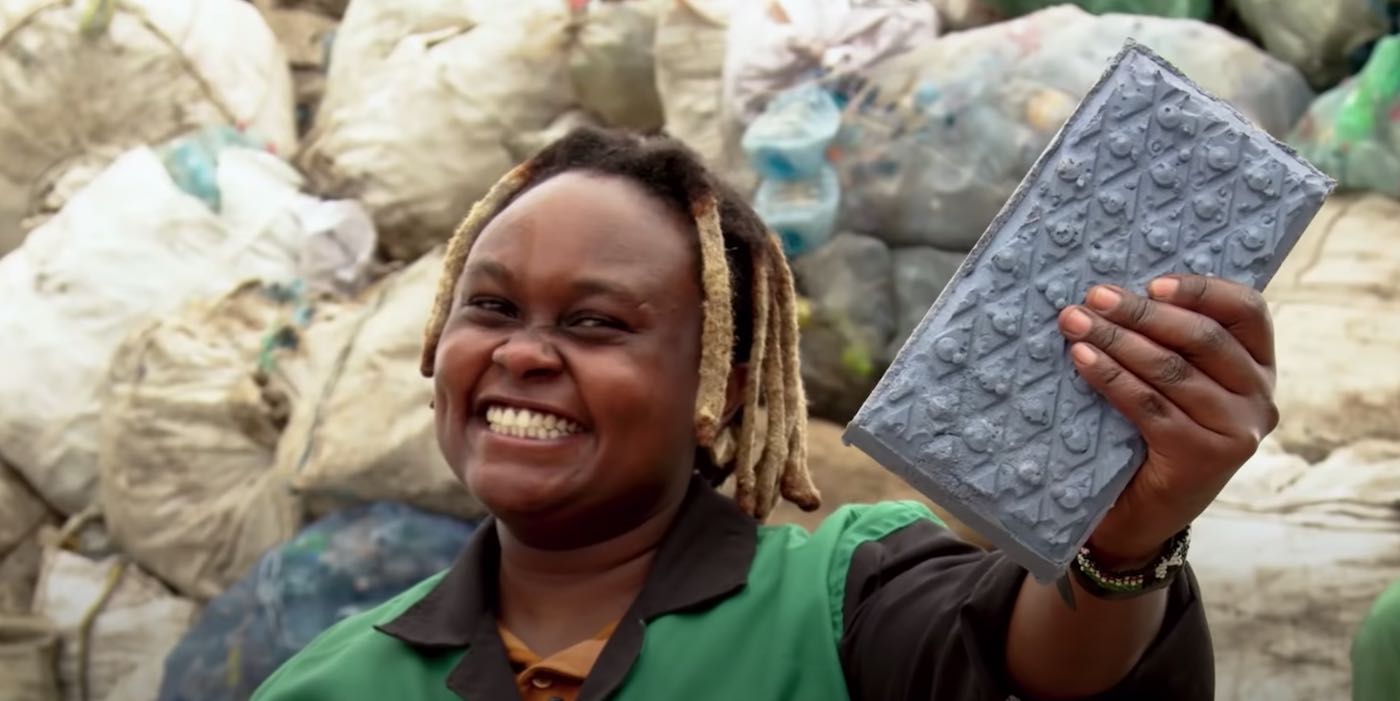 Photo by Flevian Mutie
"I wish there was an organization which could offer to rehabilitate the river as other initiatives have either failed or yielded a very minimal result. The Kenya government, in conjunction with the former Nairobi County Governor, Mike Mbuvi Sonko, the Ministry of Water, the National Water Management Authority, NEMA among other bodies, has for decades promised to rehabilitate the river, with some vowing to resign if their initiative to do so wasn't achieved. "he adds.
Like true answers to his prayer, Alfred's childhood memories are revived when an innovative, young and energetic Kenyan lady, namely Nzambi Matee, offers to clean the river as she recycles the plastic waste material into more useful stuff. Matee, in an exclusive with IEA News, says that she founded her organization, Gienge Makers, as a startup plant geared towards the collection and the recycling of plastic waste into bricks.
"Gienge fell into place after the discovery of a prototype machine that can turn plastic into paving stones, she narrates, adding that the machine enables them to produce the bricks in bulk. "I am not blowing my own trumpet, but we have really cashed in from this, since inception, which has also helped clean most parts of the city, including the Nairobi River amongst other regions. The profits are always on the maximum as we get the materials free of charge. " says Matee, adding that the bricks they produce at Gienge have a wide market not just for their affordability but also for their quality.
"It's ironical that they are made from plastic waste material, they offer more stability and strength and are harder even than the ones made from concrete. This initiative, apart from cleaning the environment and providing an alternative and a more affordable building material, it has also created employment, for garbage collectors, to begin with, and the young turks who operate the plant with me, and also for many more people like masons. I would urge Kenyans to think "outside the box" and implement an idea that will be useful both for them and for the entire community." Says Nzambi.  She also asks the government, to extend a hand and join her in working towards the reclamation of the environment, especially the Nairobi River, that it can be treated to be safe again for human consumption.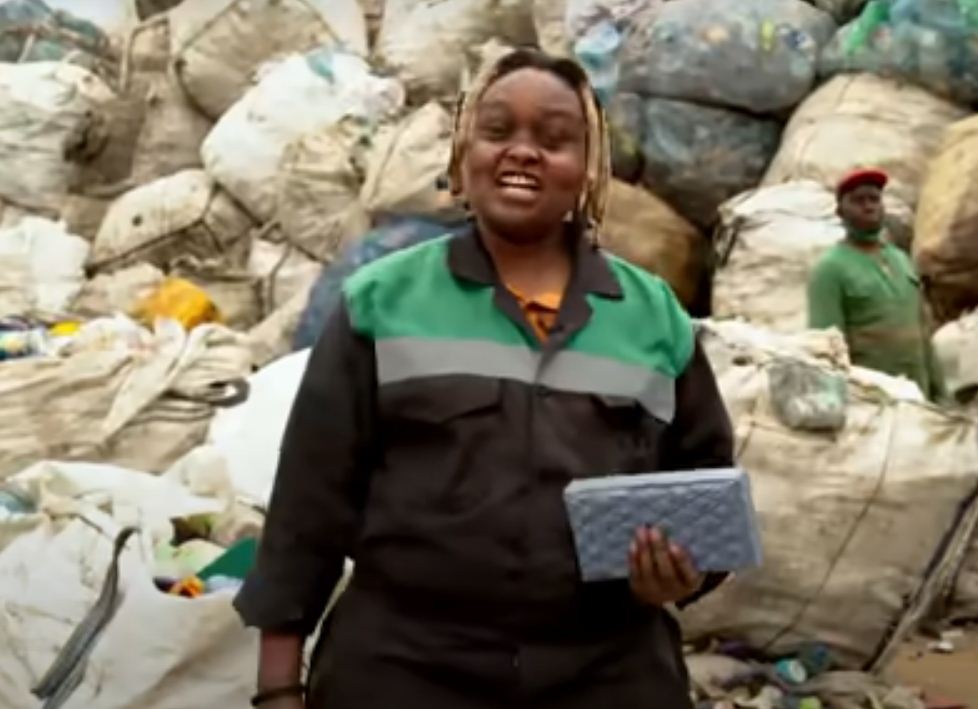 Photo by Flevian Mutie
Speaking to IEA News, Damaris Mbui, an environmentalist and a university lecturer in Nairobi, says that in 2017, and June last year as well, the Kenya government banned the use of plastic bags in most protected natural areas, like national parks and animal reserves and forests. "I wonder why with all these in place, plastic waste keeps on piling up across all dumpsites in Nairobi, where over 500 metric tons worth of plastic waste is collected from homesteads every day. I urge Kenyans to practice safer ways of waste disposal, which are friendly to our environment.
Amos Wemanya, a Greenspace and environment campaigner says even the whole world was to be called in to help with this sanctification; we can never win when we have some of us, both companies and individuals draining their waste into our rivers, especially the Nairobi River.  "As well, we cannot win this battle when the government does not lend a helping hand.
The government ought to step up, in collaboration with organizations like NEMA, educate the common mwananchi on the importance of conservation of the environment" he says.  Wemanya encourages Kenyans like Matee, and her Gienge fraternity to improvise and implement ways of water sanitation and install simple water recycling plants, which will exacerbate this kind of pollution. She calls on the Kenya government to ensure sufficient water," he says.