Sir Keir Starmer: Boris has failed in leadership over racist abuse of England players
Keir Starmer has accused Boris Johnson of trying engaging in a "culture war" as he criticised his response to racist abuse aimed at the England team.
During a fiery PMQs clash, Starmer claimed the Prime Minister had given the "green light" to racism by failing to take a tougher stance against fans who booed England players.
It comes after a growing number of England players criticised the government on racism, with Tyrone Mings accusing Home Secretary Priti Patel of "stoking the fire" after she called taking the knee "gesture politics" and refused to condemn people booing platers for doing so.
Speaking on Wednesday, Starmer said: "Football is a game, racism isn't. That is why many of us have been involved in the charity, Show Racism The Red Card, for years.
"But far from giving the racism the red card, the Prime Minister gave it the green light. And I'll tell you the worst kind of gesture politics, putting an England shirt on over a shirt and tie whilst not condemning those booing is the worst kind of gesture."
"We have taken action with things like the Commission on Racial and Ethnic Disparities and that's what he's focused on delivering."
Starmer said the comments suggested Johnson was trying to have it "both ways" over the issue of taking the knee.
"This is really simple, either the Prime Minister is with the England players in their stand against racism or he can defend his own record, those of his ministers and some of his MPs, but he can't have it both ways," he continued.
"So can he tell the House, does he now regret failing to condemn those who booed England players for standing up to racism, yes or no?"
He added: "We can all see what is happening here, the government has been trying to stoke a culture war and they have realised they are on the wrong side. And now they hope that nobody has noticed."
But Johnson fired back, saying he was not engaged in a "political culture war" as he claimed he "utterly condems and abhor" the racist abuse aimed at the England squad.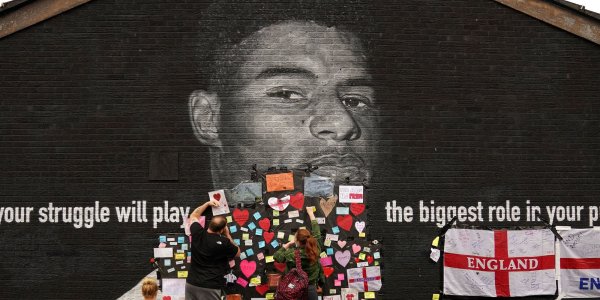 The PM also claimed the government were taking tougher action to force social media firms to crack down on the vile messages and said further steps would be taken to ban those who send racist abuse from attending future football fixtures.
"I want to reiterate...our total support for our fantastic England team, and I support them in the way they show support with their friends who face racism," the PM said.
"We love and admire the England side and what they did. They represent the best of our country."
Johnson defended the home secretary over her comments, saying she had herself received racist abuse during her career.
"Nobody defends booing the England side but what the Home Secretary has been trying to do is not just to fight racism, but to take practical steps to advance the cause of black and minority ethnic groups, which she has done successfully," he added. Politics Home