Photo Courtesy Standard
I will not bring in any new agenda to the Judiciary, High Court Judge Said Chitembwe and candidate for Chief Justice position has told the Judicial Service Commission.
Justice Chitembwe (pictured above) was responding to Acting Chief Justice Philomena Mwilu who wanted to know what transformation he would bring to the Judiciary as the incoming Chief Justice. 
Chitembwe replied he would seek to build on what his predecessors David Maraga and Willy Mutunga did when they held the position.
He further noted that he knew where the weaknesses were and what areas needed to be enhanced, without going into more details.
"You don't always come in with radical changes where you change this or that," he said.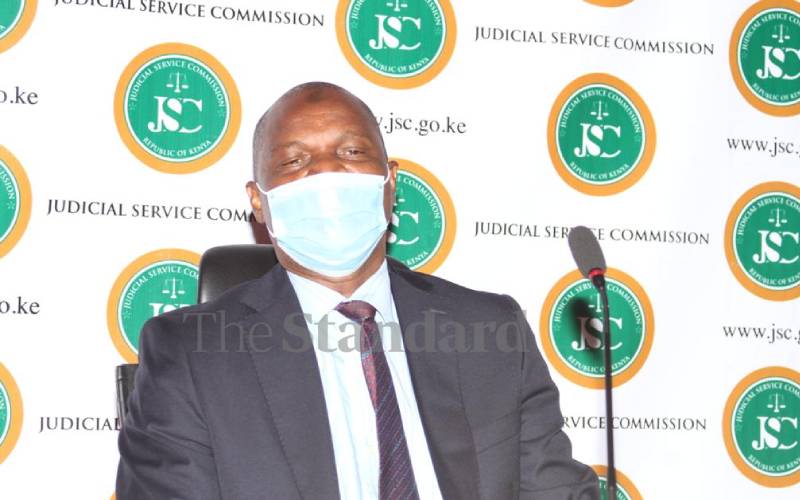 But pressed further, Chitembwe cited access to justice, construction of more courts, faster court processes, and reducing the backlog of cases as areas to which he will pay more attention.
For a judge known for some controversial judgements, his date with the JSC commissioners will determine if he is suitable to take over the mantle from Justice David Maraga, who retired in January after four years at the helm of the Judiciary.
The 54-year-old  Justice Chitembwe stirred controversy in 2016 when he set free a man serving a 20-year jail term for defiling a 13-year-old girl free on grounds that it was wrong to hand the man the heavy punishment when both were enjoying the relationship.
Chitembwe noted that the country should think of a way of changing the legal age in which a girl should be mature for sex to avoid jailing even those who have consensual intercourse with girls below 18 years.
He gave the example of Spain where the age of consent for sexual intercourse used to be 13 while marriageable age for a girl is 16; and countries like Austria, Belgium, Bulgaria, Switzerland Czech Republic, Germany, UK and Hungary, where a girl or boy can get married at the age of 16.
It was a decision that attracted international attention from women's rights organisations and was awarded the Women Link Worldwide Golden Bludgeon as the world's worst ruling for women's rights in 2016.
He followed the decision with another in April 2018 when he set free a teenage boy who was jailed for 15 years for impregnating his teenage girlfriend.
Chitembwe ruled that it was unfair for the magistrate to jail the boy when the underage girlfriend had admitted they had a flourishing intimate relationship with a promise to get married when they became adults.
"Both the complainant and the appellant were students and engaged in sex at their youthful age with a promise to get married. It would be imprudent to have him spend 15 years in jail when evidence shows they had sex many times for one year before she became pregnant," he ruled. By Jael Mboga, Standard