By JULIUS MBALUTO
Kenya's Deputy President has said that he will accept election results whichever way it goes. Speaking in London at Chatham House, he urged all his competitors in Kenya's election to be conducted in August this year to also accept the outcome of the election.
Ruto was answering a question from a Kenyan who wanted to know whether he will be willing to accept results if he lost the election. He started his speech by sharing his bottom- up economic model.
In his speech, he alleged that the opposition want to bring back an imperial President because they want power. He said they wanted the President to have power over the Judiciary by appointing an entity called Ombudsman that seeks to supervise the Judiciary.
He said they wanted to change the constitution and take the country back to how it was before the new constitution. Ruto advocated for what he called institutionalizing accountability. He said that the country was worse off because there was no opposition and no oversight. He said if he was elected, he would ensure Judiciary was independent by funding it.
He said the police service also need to be financially independent so that they can execute their mandate with professionalism without being controlled by the executive. Answering a question about his power sharing with President Uhuru Kenyatta, Ruto told those attending that he never appointed any Ministers, but President Uhuru Kenyatta did.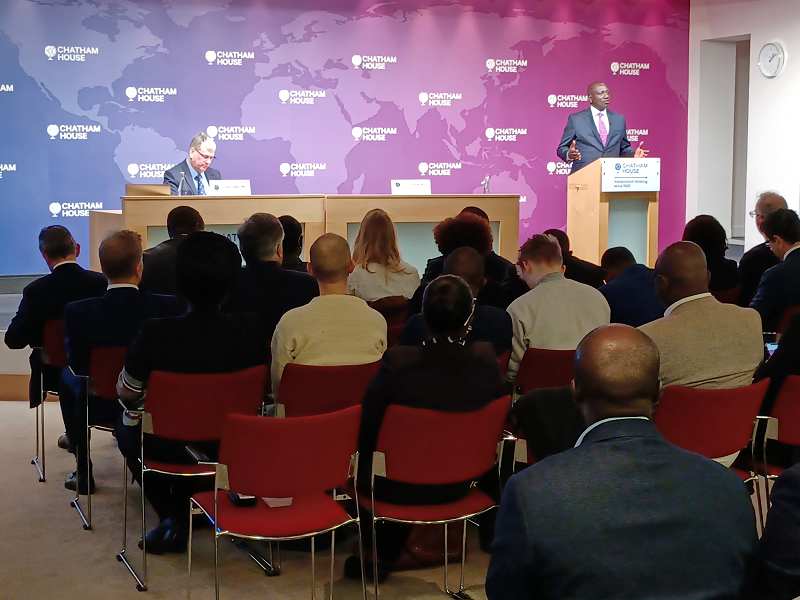 Deputy President William Ruto speaking at Chatham House in London.
Our first term, I played my role. I had many responsibilities which I discharged with distinction for example, the building of the SGR and 10,000 km of tarmac.
"To demonstrate our success, we were elected by twice the margin which we were elected in 2013. Unfortunately, in our second term because of the political dynamics that came in to play the President told me that he wanted to do things differently and that he didn't want what had become normal and known as UhuruRuto, he wanted a 'Uhuru'.
"I had a candid discussion with him and when he told me what he wanted, to run his legacy alone as the fourth President of the Republic of Kenya, I was fine with that. Executive Order Number 1 came into force establishing a different arrangement in government and I had no quarrel with it because that is what the President wanted. "
Ruto said that the people who were given the responsibility for the big 4 agenda failed it. Housing plan never took off, the universal coverage never took off and Agricultural transformation never happened and then we embraced the BBI which went up in smoke because it was unconstitutional. 
Ruto said if elected, he would do things differently, there should be clear distinction between the opposition and the government so that there is an oversight of the government.
Dennis Otingo of Azimio La Umoja UK asked the Deputy President his thoughts about the Handshake between Uhuru Kenyatta and Raila Odinga. Ruto said that the handshake was a conspiracy, and it wasn't genuine.
He said the handshake ended Jubilee, Nasa and the Big 4 Agenda. Answering a different question, he said he was the biggest loser for the disintegration of Jubilee party as he had invested a lot in it. He said if elected he will focus on increasing the numbers of women into leadership.