By NANGAYI GUYSON
KAMPALA, UGANDA - Ugandan police are probing a bus explosion that claimed the lives of at least two people on Monday, the country's second in less than 48 hours.
According to police spokesman Fred Enanga at around 5 p.m., a team of bomb experts was deployed to Lungala, on the Kampala-Masaka highway, after a tragic explosion on a Swift Safaris Bus with registration number UAU 989T. The Bus was on its way to Bushenyi from Kampala.
Two people have been confirmed killed so far, with a number of other victims, including injured people, being evacuated from the area.
On Saturday, one person was killed in an explosion at an eatery in a bustling Kampala district.
That attack has been attributed to the Islamic State.
Late Sunday, the extremist group said it detonated an explosive device inside a restaurant purportedly frequented by "elements and spies" with Uganda's government, according to a statement.
The explosion on Saturday was termed by Ugandan President Yoweri Museveni as a "terrorist act."
Three persons entered a pork joint, according to Museveni, and left a plastic bag with substances that burst later.
No arrests have been made by the police.
The explosions occurred just one week after the UK government issued a terrorism alert for Uganda.
"Terrorists are quite likely to try to carry out assaults," it told British citizens in the East African country, where such attacks are uncommon.
They were urged to be cautious in public locations, such as restaurants and bars.
The bombers bought food and drinks before placing a plastic bag under a table, according to police spokesman Fred Enanga. Moments after they left, the explosion occurred.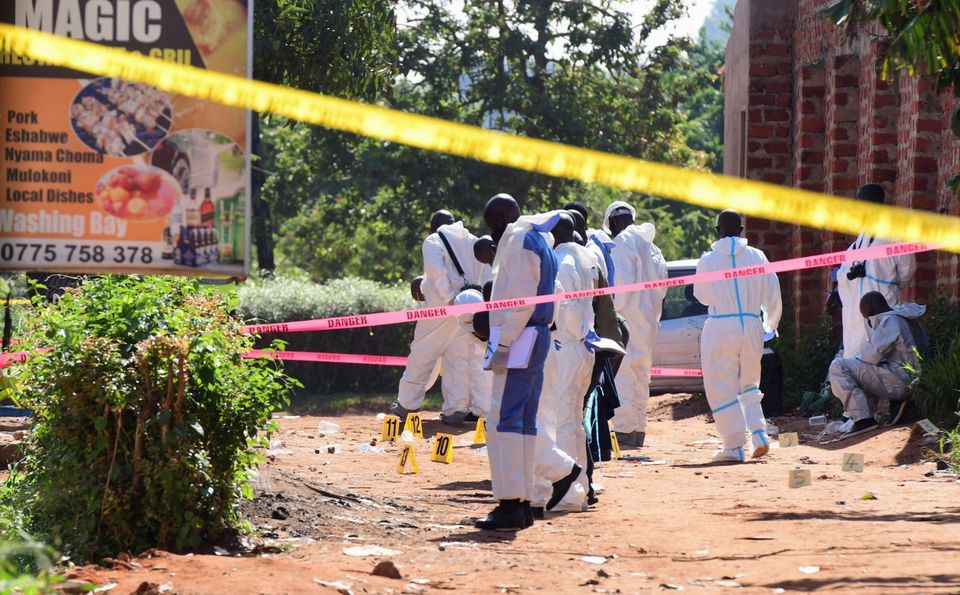 Ugandan explosives experts secure the scene of an explosion in Komamboga, a suburb on the northern outskirts of Kampala, Uganda October 24, 2021. Abubaker Lubowa
Nails, ball bearings, and other metal bits have been discovered by investigators, implying that the explosion was triggered by an improvised explosive device, according to Mr Enanga.
President Yoweri Museveni of Uganda announced on Twitter that the blast was a terrorist attack and that the perpetrators will be apprehended.
"The public should have no fear," he continued. "We will overcome this criminality just as we have all the other criminality committed by swine that don't respect life."
In August, this year, security forces prevented a planned suicide terror attack in Uganda and suicide bomber knowns as Abdul Katumba alias Ben, was apprehended with IEDs aimed at mourners at the funeral of former Deputy Inspector General of Police (DIGP) Lt Gen Paul Lokech.
President Museveni accused the armed rebel organization Allied Democratic Forces (ADF) of being behind preparations and orders to kill Ugandans.
He said that he was in talks with DRC counterpart to attack them in DR. Congo forests.  
"Terrorists in Eastern Congo are planning and ordering the murder of our people. We're still talking to HE Felix Tshisekedi about eradicating that cancer "he stated.
Mr. Museveni claims that the ADF acted in reprisal for Mr. Lokech's role in major arrests of ADF members in Uganda, as well as his gallant efforts in driving Al-Shabab militants out of Mogadishu, Somalia.
"The ADF was taken aback since they had grown accustomed to uncaring performers who refused to go deeper even when there were plenty of evidence.
That's why, according to reports, the ADF was now focusing on Lokech as a person "he stated
In 2010, 74 people were killed when bombs exploded in Kampala venues where football enthusiasts were watching the World Cup final. The masterminds of the attacks, members of the al-Shabab Islamist militant group, are serving life sentences.